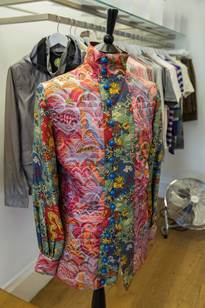 Pretty Green, showed for the second time this season at their Covent Garden store as part of LC:M.  Jesse Wood kicked off the celebrations arriving in a Pretty Green S/S 14 leather jacket and limited edition union jack scarf. Guests were treated to 3 live sets from The Gramotones, K and The Rifles whilst sipping PG cocktails and enjoying canapés by Redhouse.
The collection heads off in a colourful direction with a backdrop of psychedelic colours and influences from the Beatles Magical Mystery Tour. Think an explosion of colour, all-over prints, pops of graphics and lots of key shapes. On display, and as a main influence of the S/S collection, were the original jackets as worn by Paul McCartney in the Magical Mystery Tour.
This season will deliver a mixture of true to brand outerwear pieces peppered with beautiful fabrics and materials, delicate suede shirts to delicately embellished kaftan's from the Liam Gallagher collection. Featuring many of the heritage PG shapes in a Beatle influenced guise with true flashes of rock inspiration grasped from Liam's inimitable style.
Pat Salter, Design Director, commented:
'There is such a rich tapestry of inspiration to draw on when you look back over our great British music history. The magical mystery tour is one of those events that sticks out as moment in time. We don't want to replicate we're just immersed in trying to recapture the feel of all that interesting British melting pot of colour and style.'