Journeys are a wonderful thing.  Everyman has a story to tell from his own personal journey, and none more so than legendary explorer Ernest Shackleton. His story centred around a journey to the heart of Antarctic, as he lead a team of merry men on an epic journey in 1907.
The brave explorer attempted to journey to the South Pole in 1907 and along with many other provisions he elected to take 25 cases of Mackinlay's whisky with him to fortify his men on the perilous journey.  Some may say that carrying such a weight, whilst it would keep his men happy, was a tad silly but I for one can understand his thinking.  Although his team didnt manage to get through all the drink as over 100 years later, the team at the Antarctic Heritage Trust (AHT) discovered three cases of whisky buried deep within the ice at Shackleton's icy Cape Royds base.
After the whisky's discovery, three bottles were flown back to Scotland to Whyte & Mackay's Master Blender, Richard Paterson, who undertook the official analysis on the 'whisky find of the century'.  Richard and his team spent 8 weeks marrying and blending malts to get an exact replica of the century old whisky.
Richard Paterson, Whyte & Mackay's renowned master blender says:
"Nosing, tasting and recreating this amazing piece of history was the highlight of my 40 year career. Shackleton's story is truly remarkable and it really has become whisky story of the century. Everything about this whisky is exciting – from the taste to the scent to the story."
Mackinlay's "The Journey", also known affectionately as 'Shackleton's Whisky'  is a replica of the century-old whisky discovered under explorer Sir Ernest Shackleton's hut in the Antarctic.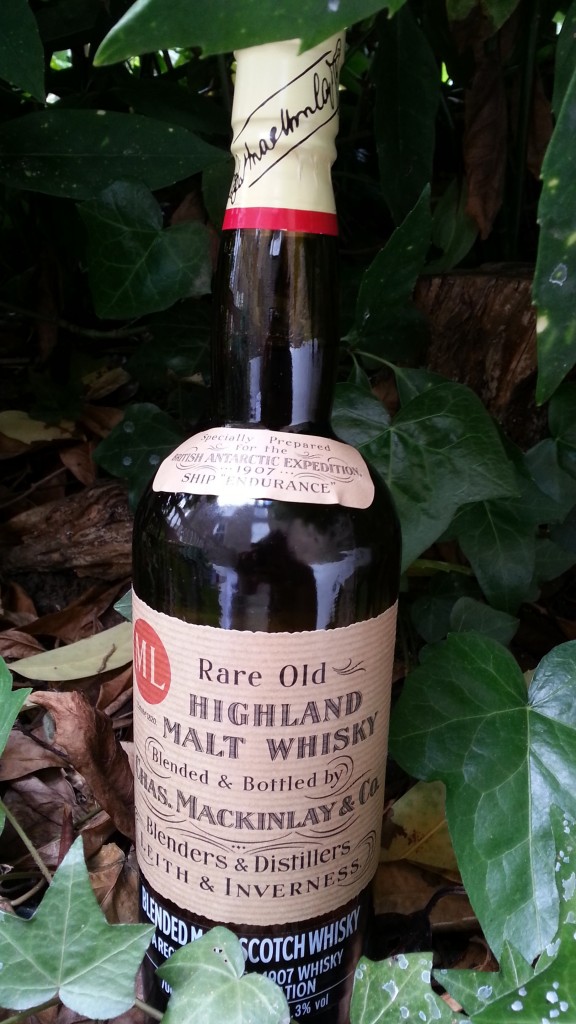 Following the huge success of its original recreation – 50,000 bottles were snapped up by whisky aficionados in a matter of months  -which raised £250,000 for conservation projects – Mackinlay's were prompted by a request from the AHT, to release a second edition  to raise much needed funds for the conservation of the expedition bases on the Antarctic.  This edition, which tastes exactly like the first, is called Mackinlay's The Journey.
The delightful blended malt comes authentically packaged in a hexagonal shipping case, packed to resemble the original straw-bound casing of the bottles found in the Antarctic. The pack contains information and historical memorabilia – a map of Shackleton's journey and original photographs from the expedition.  Which makes it an ideal gift for anyone in my books.
The whisky in my opinion is delicious. Whilst I couldnt do it justice by explaining all the flavours within the drink, I can honestly say it was a treat.  I shared a dram with a couple of my girl-friends and they even enjoyed its velvet smooth taste. I always have my whisky with two cubes of ice, to open up the drink to release its full flavours, and Id like to think Ernest and his team would have done the same (well they did have plenty of ice around them). So if you are looking for a whisky to have a good nip, or as an old fashioned, or even to give as a present I think I may have just found the one for you.