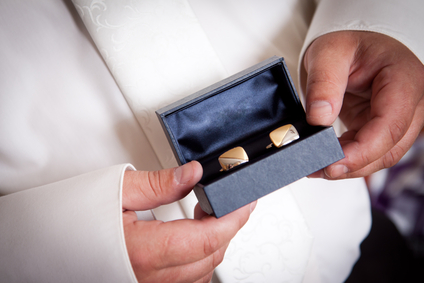 The lead up to Christmas changes a lot once we grow up. When you're a kid, October means it's about time to start writing up your wish list and hassling your parents about this or that item that you absolutely won't be able to live without. But as an adult, this is about the type of year when you have to start thinking about gift lists from the other side – as in, it's time for people to start giving some thought to early shopping. And for the men on your list, nothing beats some classy accessories and manly treats. Here's a little gift guide of 10 specific types of accessories.
Personalized Cufflinks – Doesn't this idea just scream "male accessory?" We thought so too. Plus, it has to be a gift – not many men are going to go buy personalized cufflinks for themselves (though, more power to you if you do).
A New Watch – A man can never have too many watches. Go for a midrange price option such as a leather band Citizen Eco-Drive for a classy, simple, wearable option.
A New Watch Case – If the men on your gift list like accessories, why not give them a place to put them? Nothing's classier than a watch case. Plus, if nothing else, it'll inspire a man to get more watches, which is always a good thing.
Men's Jewellery – We did a post back in July on some great men's jewellery items, and any of them are great as holiday gifts – particularly to accompany a nice new watch.
Alcohol – Who says alcohol can't be an accessory? Any man appreciates a nice bottle of the good stuff on any special occasion. We recently did a post on some design news regarding Absolut, and would recommend them again for this sort of gift. However, you can also think beyond spirits when you're using alcohol as a gift. Wine is a tasteful alternative that people tend to appreciate during the holidays as well. M&S has a respectable wine selection if you want to simply order a bottle online, or if you want a more direct approach local wine shops always have some great options and may even let you taste! But in short, this tip is simple: you can't go wrong with alcohol as a gift!
A Flask – It's a nice way to keep the alcohol theme going. Honestly, he'll probably never use a flask – but this is one of those items a guy just likes to own.
Winter Scarf – A winter scarf is always a classy touch, and this year they're a pretty big deal in fashion collections for men.
Fake Ice – These items, like the "N'ice" Cubes at Brookstone, are increasingly popular. Basically, they're little cubes you can freeze in the freezer to use as ice that won't water down a drink.
Tie Clips – Ties are pretty much designated as boring gifts (most guys want to pick out their own). But a tie clip is a bit more interesting, and a better specialty item.
Other Personalized Items – Cigar clips, lighters, money clips, etc. – any of these with a name or initial on them make a guy feel classy.