With Movember in full swing now, brands are throwing in their support for this great cause.  The latest being Bridgestone who have sent a dynamic moustache hunter duo on an epic road trip in search of the biggest, bushiest and most brilliant moustaches in Europe.
During the hair-raising documentary, the Bridgestone Bros will travel in their vintage VW campervan – complete with giant moustache – from the Handlebar Club in London to the World Beard & Moustache Championships in Stuttgart, stopping off at moustache clubs in Antwerp, Strasbourg and Berlin along the way. Some of their charming men's moustaches that they have found has been shared exclusively with Maketh-The-Manreaders above.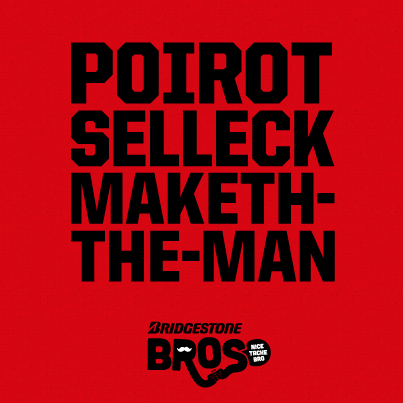 Every week viewers can watch one episode during Movember on Bridgestone's www.beeneverywhere.eu website and on Facebook.
Andy Dingley, Communications Manager for Bridgestone North Region, said:
"Our two Bridgestone Bros are sure to come across some truly unique and fantastic moustaches on their travels, which will make for interesting viewing.  We hope men around the country will also be inspired to get involved and join our Bridgestone Movember page to help raise some money for such a worthy charity."    
That's not all though!  All the fun cant be left for the men, so Bridgestone have invented some cute tash cut outs for the ladies to enjoy their stiff up and hairy lip.