It's been a while since I have planned a whole routine out with the same brand. This is mostly to do with the fact that they only sell a conditioning wash or styling wax. But I'm happy to say that my Percy Nobleman set came through the post the other day.
Just looking at these assorted collection of products I could tell I was in for a good time with the beard this weekend. I also believe that you have to use the product more than once within your routine to get full effect of the ingredients involved.
Here is the list of the products, which is pretty much the ideal amount to keep your beard or stubble in shape and the following order is how I would use them:
Beard Wash
Beard Conditioning Oil
Comb
Beard Balm
Moustache Wax
First up is Percy Nobleman's beard wash. Now the first time I used this I tried to create a lather within my hands which I could work into my beard but found better results if you work it directly into your beard and moustache by gently rubbing it in a circular manner and into those hard to reach places. You get a light lather that's really aromatic, especially if you're someone who gets up early in the morning and needs that gentle, but strong wake up call. You should only need perhaps one to two drops depending on how big your beard and moustache are. The pump itself is a handy feature to the bottle as it allows you to use your product sparingly but guides you to use the right amount without waste or over shooting it. Perfect for you gents that are a little bit trigger happy when it comes to applying products.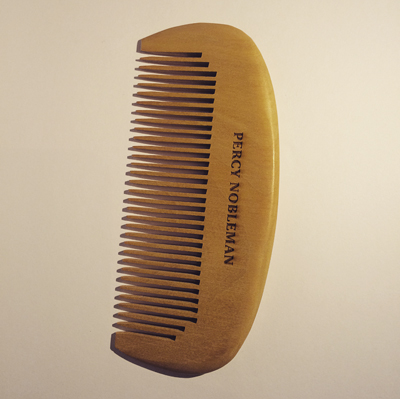 What does it smell like I hear you say! I've tried a lot of beard washes and have to say that Percy Nobleman has managed to produce a refreshing and subtle smell, with its unique light earthy scent, with undertones of citrus. Pulling out from the key ingredients, the smell is built up from the following; Cedrus Atlantica Bark, (Shea) Butter Extract, Coconut Oil and my favourite new ingredient Cupressus Sempervirens Flower Water. Because this wash has a lot of mixed oils in it, it will help keep your beard and moustache extremely soft with a good coating of oil and not leaving it too dry. It also gives a marvellous sheen as well.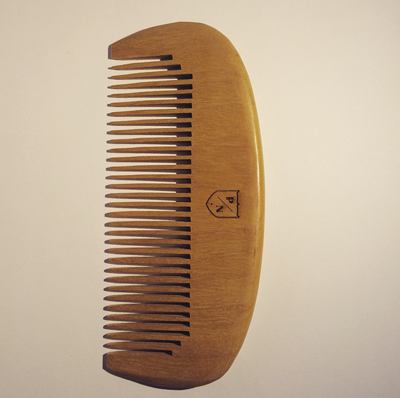 After finishing up in the shower I naturally let my beard dry, this means no hairdryer gents or harsh rubbing with a towel. I simply just dab the moisture from the bottom of the beard as gravity does all the hard work of collecting it at the bottom. This is also a good time to introduce a good couple of strokes from the fine Percy Nobleman beard comb which is great to use and doesn't snag. It's a reasonable size comb as well, which can also be used on the moustache and handles well. I always do a couple of stokes now as it's drying so you can formulate a style of your beard which it will evenly dry into and also helps bring left over hairs and water to the surface and bottom of the beard. But don't get too carried away with brushing it as sometimes your beard can be overworked with a comb.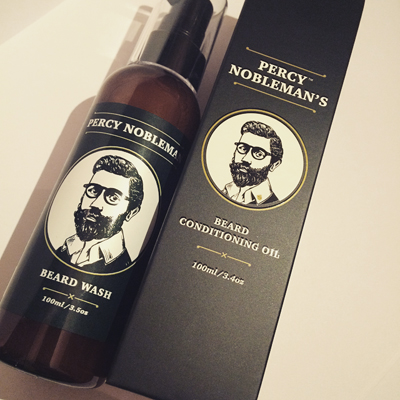 Once the beard is dry this is when I apply some of Percy Nobleman's beard oil. Similar in bottle design, this allows me to apply a very well scented oil form of the wash into my beard with the control of the dispenser. Now I would recommend perhaps one pump to begin with as it is a lot easier to work it into the beard rather than over loading your beard with too much oil which can look slick and greasy, not to mention it might not go down so well when cuddling up to your loved ones depending on how big your beard is. Also this has a lot to do with working the oil in correctly as well. For me I used about one and a half pump which I found sufficient to work into my beard and get an evenly balanced look and protective covering. Simply dispense it into your palms and rub together so it's evenly worked into your beard or moustache then begin to brush your beard outwards with just using your hands. Then using two fingers simply go through your moustache working from the centre outwards. This application will help get the hairs coated, now using the noble comb I work the oil down towards the skin and any other hard to reach areas as it's important to keep your skin follicles healthily coated with oil as this will stop it from drying out and encourage hair growth as it comes through the skin, not to mention to help you smell divine.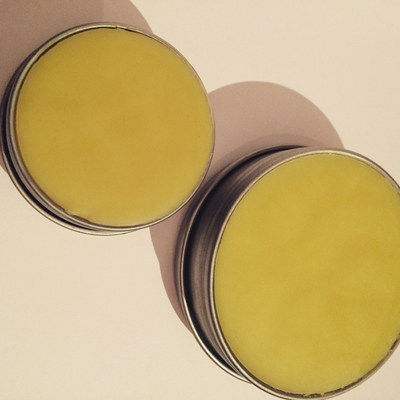 Now to recap I only used a small amount of oil as the wash itself helps retain your natural hair oils too! I move onto using some of Percy Nobleman's beard balm. Presented in a lovely stylish tin and generously big in volume you definitely get your moneys worth for 77g. I think it's also good to mention at this point as well that the Percy crew have cleverly included instructions on the back of all their products to help gentleman of all calibre's to make sure you get the most out of their products. Using the beard conditioning balm, you want to use the back of your thumb almost like you would with wax to scoop a little of the product out into your palms, simply work your palms for an even spread then apply sparingly to lightly style the beard into whatever style takes your fancy. After applying it, then use the comb to finely sculpt your beard into your desired look.
The ingredients used within the balm is the same as the wash and oil apart from some weeks. Contain's Bee's Wax, Junipers Virginiana Oil and Citrus Aurantium Dulcis as well as some Orange Peel Oil for the fresh citrus smell.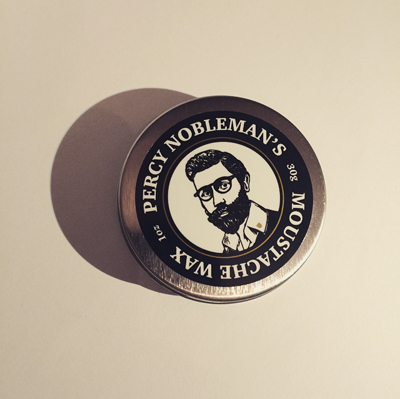 Now for you gents that are also sporting a strong moustache look , Percy Nobleman has produced a wax version of it's light aromatic scent for the finishing touch. Again presented in a stylish tin and with a great 30g, this wax will last you a long time providing you use the right amount. It's important not to overload your moustache with too much wax as a lot of people mistakenly do. It does take you a couple of times to get it to work just the way you want to, so have faith. I would say that the wax from Percy Nobleman is a medium to hard wax which I find the most effective and comfortable to use, as my moustache is extremely long. This shouldn't put you off as all you need to do is apply a little more work to the wax. Simply use the back of your thumbnail to scrape a small amount of wax from the tin then roll into a small ball shape then work both index fingers together so this creates a great amount of heat from friction over a small amount of time, which will warm the wax up. This makes the wax a lot more malleable to work with and applying into the moustache. Then using a small moustache comb simply work outwards into whichever style you desire. I have to say Percy's wax has a great consistency to it, meaning it rubs well into the moustache without any lumps.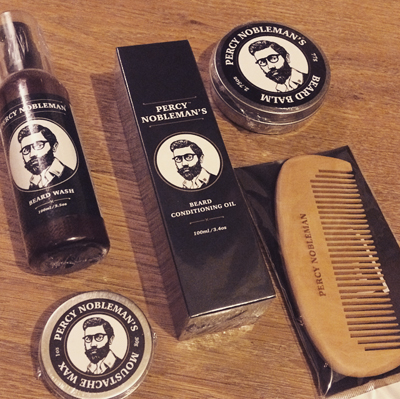 Master the routine and become a Nobleman yourself and head over to Percy Nobleman's which features the whole range.
Written by Alex Auld