Are you as serious about Grooming as we are in Team Maketh? Do you have a relative/close friend that thinks they have their regime game locked down? Then keep reading as Team Maketh has found the perfect all in one winter solution, which will have you literally laughing at the face of the guaranteed bitter cold English winter!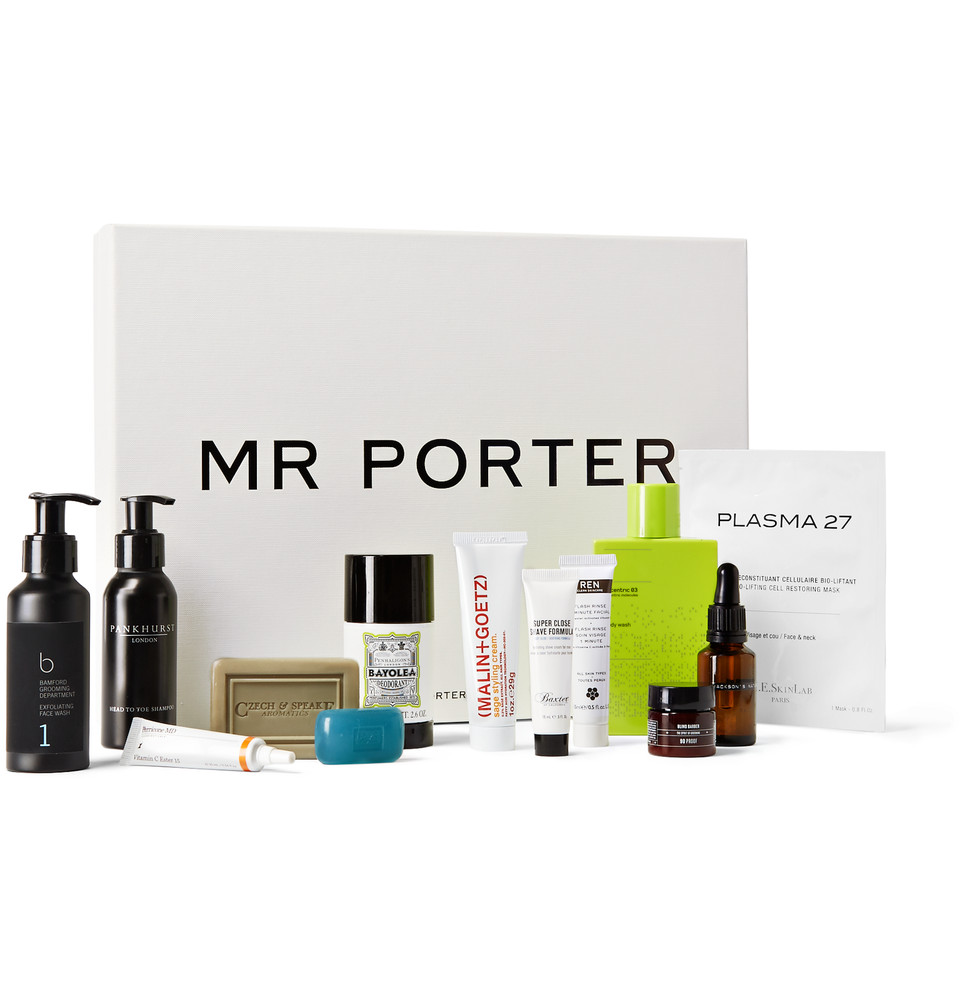 The team at MR PORTER have been working away to bring you their new Grooming kit, consisting of 13 handpicked products essential to a man's regime. Consider this the ultimate winter upgrade to your regime that will not only keep you fresh and well groomed, but have you smelling and looking sharper than Don Draper himself.
Allow us to break down what the Grooming kit of masculinity contains, that's guaranteed to flick your regime game up a notch:
Dr Jackson's Face Oil: Yes face oil is a thing and it's the secret to giving you a few more visible years of youth. Dr Jacksons nourishing face oil will boost your elasticity, improve skin tone and reduce fine lines.
Blind Barber 90 proof hair pomade: Strong hold, with a matte finish. This award winning mixture is the remedy for unruly hair.
Escentric Molecules body wash: A body wash that literally smells handsome (yeah I said it!). Green peppercorn, Egyptian jasmine and rich amber are the enhancements that result in the handsome scent.
Penhaligon's Bayolea Deoderant: A rather fancy name for a deodorant you say? Yes I agree it is an interesting name, which is why you know it's good! Penhaligon's is fragranced with a blend of mandarin, tangerine and lemongrass, along with a touch of cardamom, black pepper and neroli.
Ren Skincare 1 minute facial: Never think exfoliation is girly! I do it daily and I swear by it! Ren skincare is potent with water activated vitamin C and boswellic acid, to reduce those signs of fatigue.
Pankhurst London head to toe shampoo: This is actually my favourite item in my wash bag! It works as a head and body cleanser, enriched with a rum and lime fragrance, signature to Pankhurst. I use this almost daily and without fail, it leaves me feeling fresh and cleaner than I could imagine.
Czech & Speake Hand Soap: Admittedly this is a new one to me and trying it out, has converted me completely. Unlike most hand soap on the market, you're not left with hands feeling like you've been power lifting, due to its rather creamy blend. You also smell like masculine sandalwood afterwards, which is always a bonus.
M.E. Skinlab Cell restoring Mask: I have never done face masks often myself, but do time to time. Don't be alarmed by the plasma 27 title, these are free from petrochemicals, parabens and silicone. In fact to be exact, it's infused with soothing lettuce and lemon balms.
Erno Laszlo – Firmarine Bar: I personally always use an exfoliating wash myself; however that may change after using Erno Laszlo. You definitely feel a lot fresher after continuous use as the oils and impurities slip away.
Baxter of California – Close shave formula: Used this before when I was stateside. Loved it then and love it more now. Imagine having your regular shave with a razor.  Imagine washing your face afterwards feeling nothing but smooth hydrated skin, with no after sensitivity or dryness. Now open up Baxter of California and go make it a reality!
Perricone MD – Vitamin C Ester Serum: This here is the key to knocking a few years off the appearance. Rich with nourishing palm oil helps it to boost your collagen production, making you look more youthful by the day.
Bamford Grooming Department – Exfoliating Face Wash: As I mentioned earlier above, I am definitely an exfoliating kind of guy and have always been.  It can sometimes be a flaw to be stuck to one product for so long so trying out Bamford, has definitely broadened my horizons.  You get a very refreshing feeling once the ginger, black rice and quartz get to work to scrub away the dead skin.
Malin + Goetz – Sage styling cream: Last but not least a man cannot go anywhere until his mane is in the correct stance. The sage styling cream is residue-free and offers a firm natural hold to style all hair types and lengths.

Now you have everything you need for a good regime in one Grooming kit, it's time to get out there and take on the world like the well groomed gentleman you are.