On a bright Thursday evening in London we take that well-earned time-out to relieve the stresses of a day in the city, to a new bar for new type of cocktail.
The venue of choice for the evening was The Gibson in Old Street, a place where you will literally feel like you've stepped into a time machine. But not in a bad way, for the Gibson bar takes you on a journey through the elegance of their copper bar, etched glass windows and chic & classic seating area.
And then we move on to the cocktails…… Prepare to be impressed by the vast array on their ever changing menu of fine choices.
Our main purpose for coming down was we heard there was a certain cocktail residing on their menu currently, consisting of our favourite; the Botanist gin. As already big lovers of the exquisite gin of the isle of Islay, its only right that we pursuit every opportunity to try it in new ways.
If it's alternative, classic speakeasy bar vibes you're after, then look no further than The Gibson.
What to try
Well we could do this bit all night, but that wouldn't leave much to the cocktail ambitious imagination, so allow us to give you a glimpse into our faves:
Forager's Tonicum
This is currently the cocktail of the month at The Gibson (and our raison d'être) and once you take a sip, you will realise why very soon. Let the spice wine mix and pepper bitters fire up your palette, as the freshness of The Botanist gin sweeps in to heighten the flavours some more. With the addition fresh lemon tonic cordial also blended in this cocktail, you will soon be gasping for another, just to savour that burst of flavour going for longer.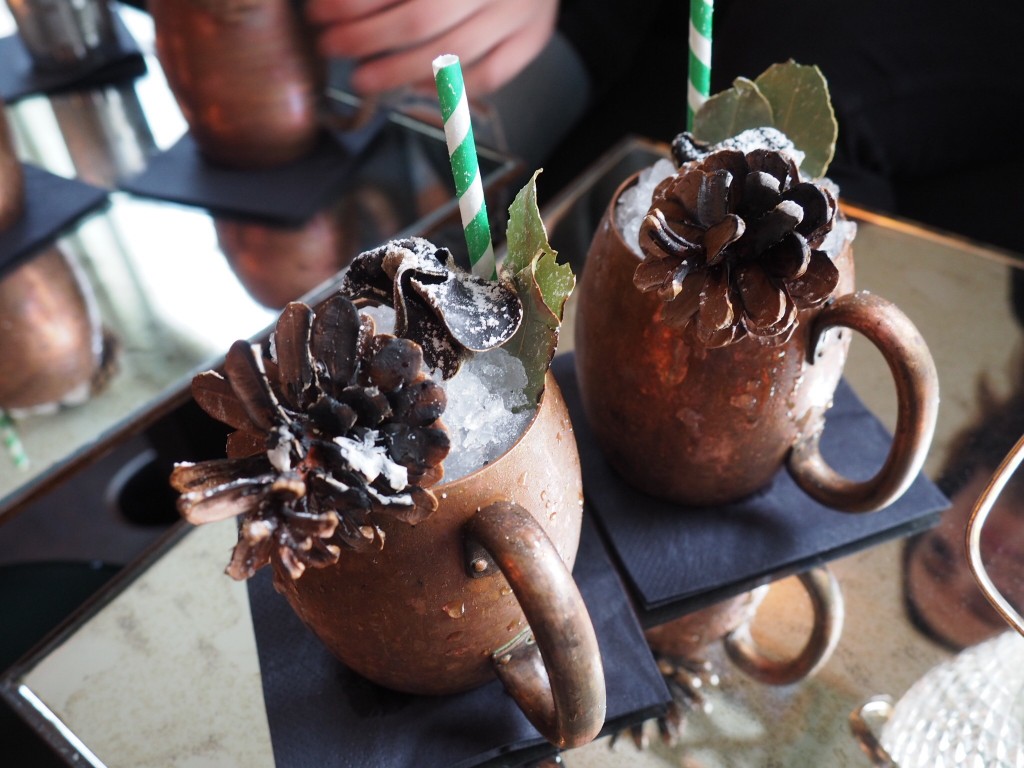 Lock, Stock & Barrels
Yes we went for this because it reminded us of the film, yes scotch caught our attention and YES it is a great cocktail. With Glenmorangie original in its base the addition of the fresh lemon, tobacco smoked honey (best bit), ginger wine with Scottish thistle and heather, makes the lock stock quite the flavoursome mixture. Let the cacao butter added settle a little to add to the flavour. And don't mistake this for chocolate and eat it, we did and the taste caught us off guard!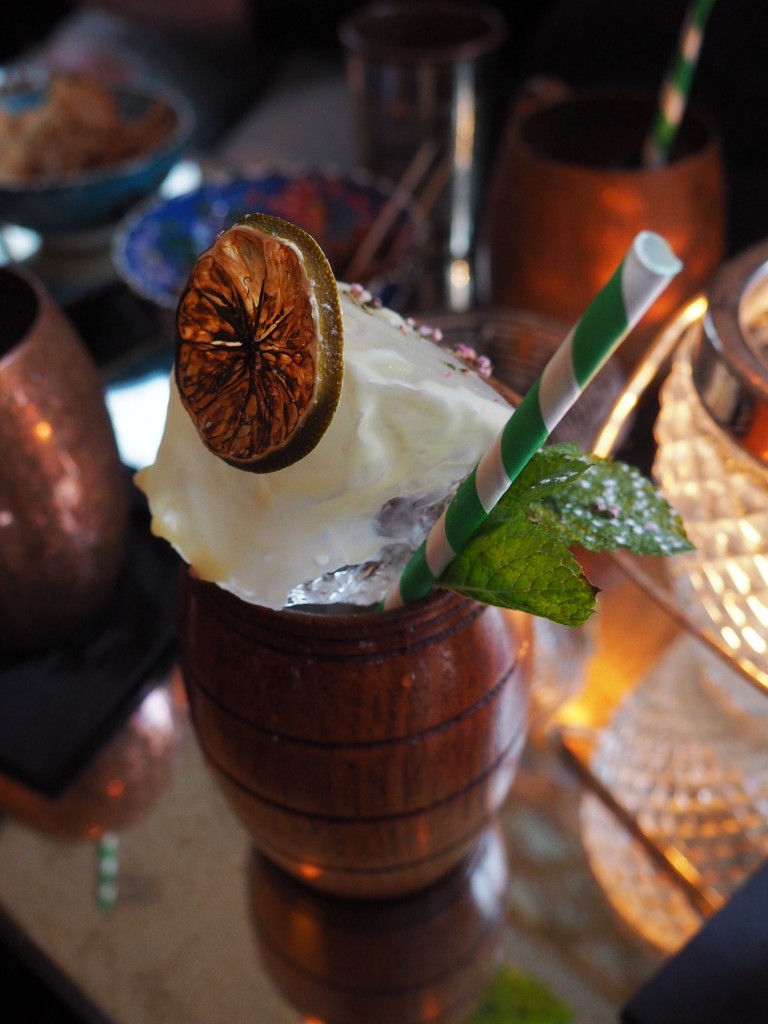 Bourbon baked Tea
As a lover of a bit of American whiskey, it was only right that we give this one a go. The bourbon baked tea has quite an interesting variety of components mixed into it, with an end result that changes your perspective of the cocktail at the drop of a hat. The change in perspective will of course be in a positive way, as the blend of mandarin baked tea and strawberry beer form a coalition of tremendous flavours with the Woodford Reserve bourbon awaiting its centre. Along with the insane flavours awaiting your palette comes an allotment of awesome garnishes like raspberry's as well a glass that is chocolate smothered around the rim glass…… Win!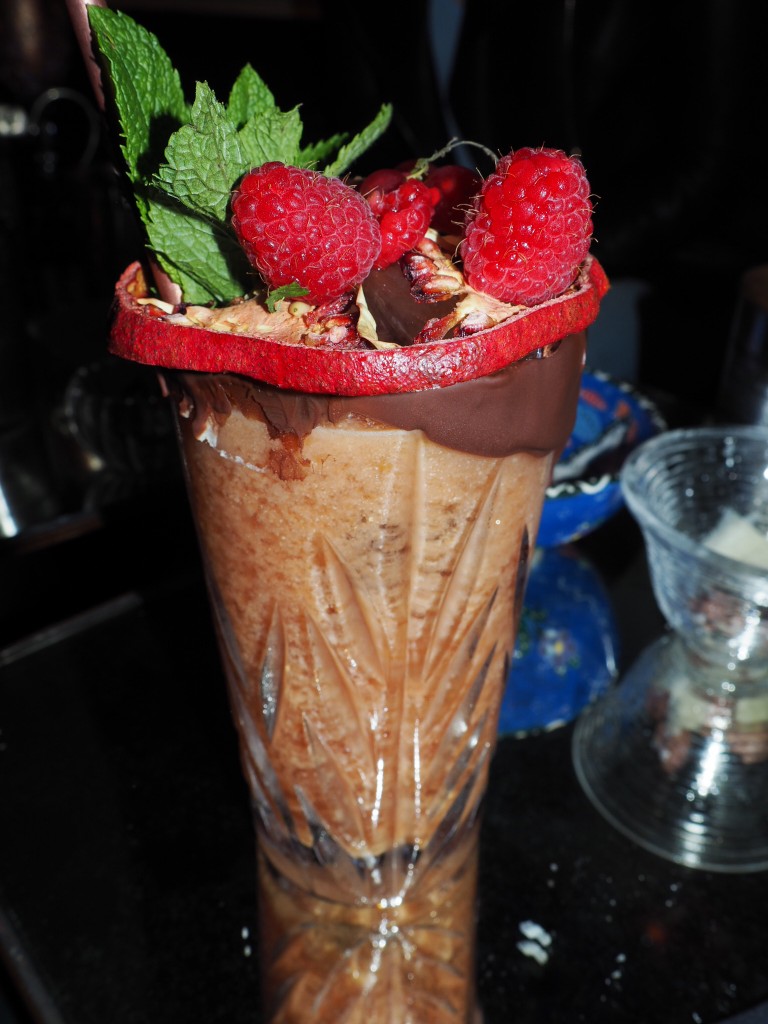 So there you have it. We strongly recommend you taking yourself down there for a change of London scenery, along with some of the most innovative cocktails on the scene right now, at the beautifully chic Gibson bar.