When I think Chester, I at first have vivid flashbacks to being a little kid overwhelmed by the vast amount of animals at the wonderful zoo, (only a car journey away due to me being a Shropshire boy) So it was a pleasant surprise that coming back to Chester one ill weathered Monday evening I would be creating more ever lasting memories in this wonderful city, and all merits go to this remarkable restaurant 'Sticky Walnut'.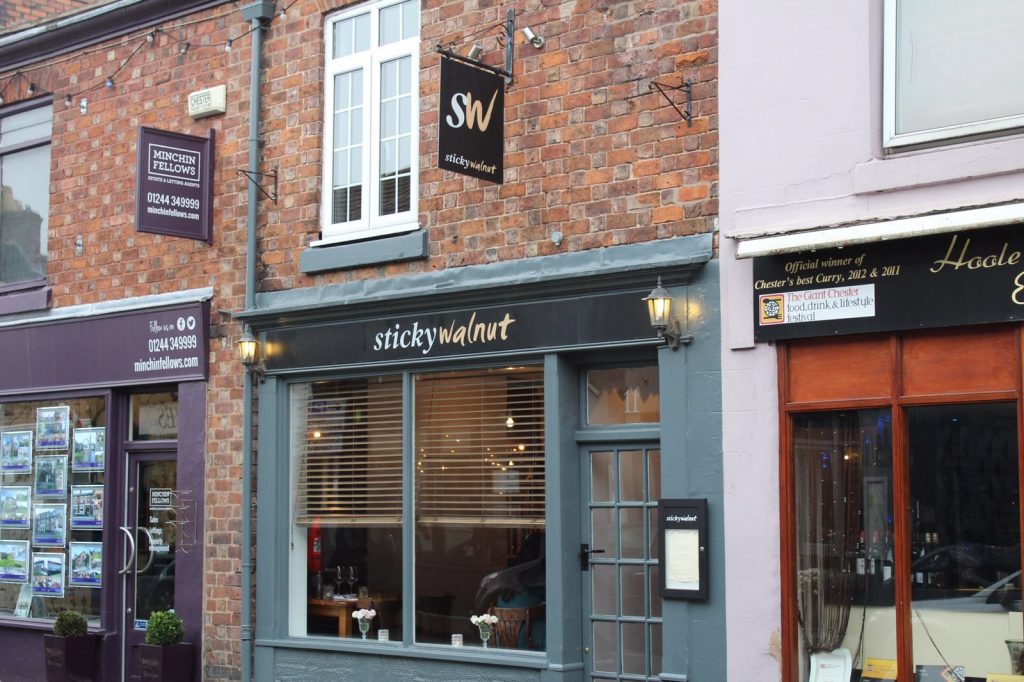 Treading into this beautiful traditional city, not yet over crowded by the vast amounts of fast food chains and discount stores, like it seems many others have succumb to, I wanted somewhere to eat. Now I'm usually incredibly indecisive when it comes to choosing somewhere to eat, but it seemed with the copious amounts of local, very vocal applause, I would be a sucker not to head in Sticky Walnut's direction.
So a short five-minute taxi journey plonked me in front of an unassuming looking restaurant building.  I have been to other restaurants, which seemed to want to amaze immediately with flamboyant exterior displays of menus and signage. The simple exterior here is clever; I'm immediately put as ease, and somehow feel as if this place is familiar. The homely warm ambiance immerses me, and all I hoped would follow is some clever food to accompany this clever intimate interior.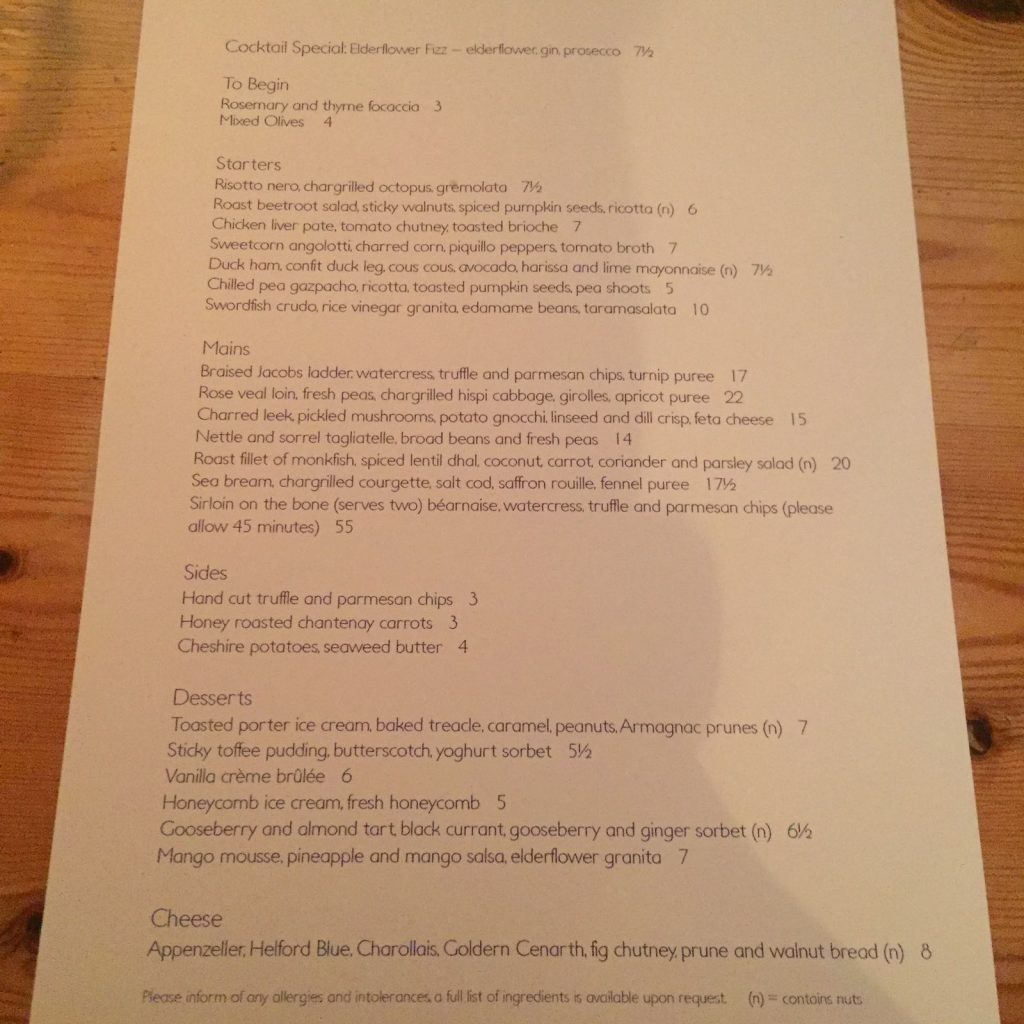 Stepping into the restaurant I was greeted not only by an enchanting smell from the kitchen but a welcoming smile from the front of house as if we had met many times before. I was sat at an aged wooden table, surrounded by bookshelves full of cookbooks, placed on the top was their AA restaurant of the year award. I loved their casualness, and the warmth this décor gave out, as when I peered at the food coming out of the kitchen, I saw there was far more to this enchanting restaurant.
To begin with I was given a generous portion of their freshly made rosemary and thyme focaccia with some olives. I mention this as usually some olives and bread can be easily left out of many a review. This focaccia however is not to be forgotten; it was the perfect balance in textures, a crispy outer layer, with a fluffy soft warm inner, a perfect start to the evening.
My risotto starter was divine; the chargrilled octopus had been slowly cooked in a water bath overnight. The effort that had been put into this elegant dish transpired into the pristine presentation to result in this wonderful plate.
The service was immaculate, constantly ensuring I was comfortable and fully appreciating my experience, which I truly was, I felt like a local. There was further reward to come in the delivery of the main course.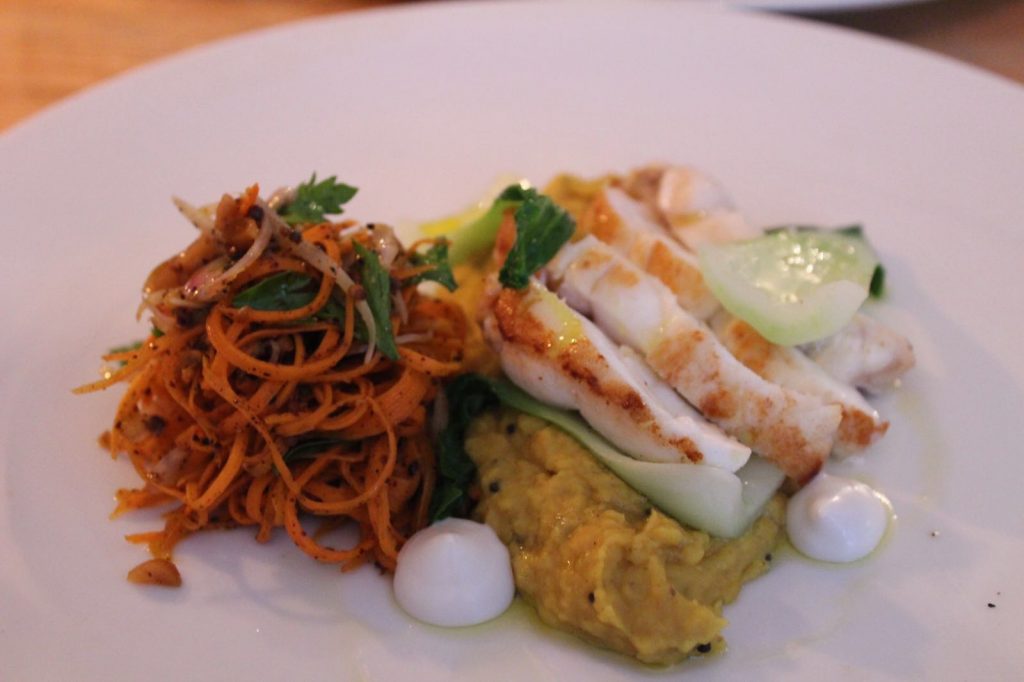 The Sticky Walnut's monkfish dish was light, soft and just melted in my mouth, it had been cooked in a 'beurre noisette' or burnt butter to all us novices, which created an incredible nutty rich flavour, which left me craving more.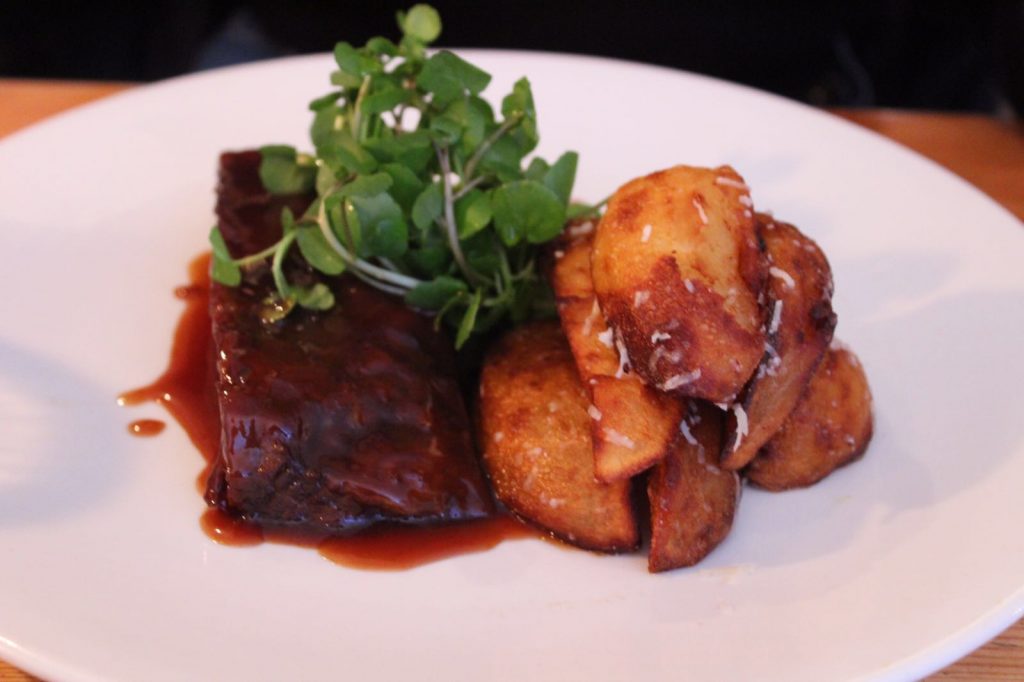 I was also lucky enough to taste the braised Jacobs ladder, which too was faultless, the sauce perfectly complemented this rich juicy short rib, I was stunned by the quality being produced at such consistency, but was not complaining and just continuing to relish my experience and look ahead to dessert.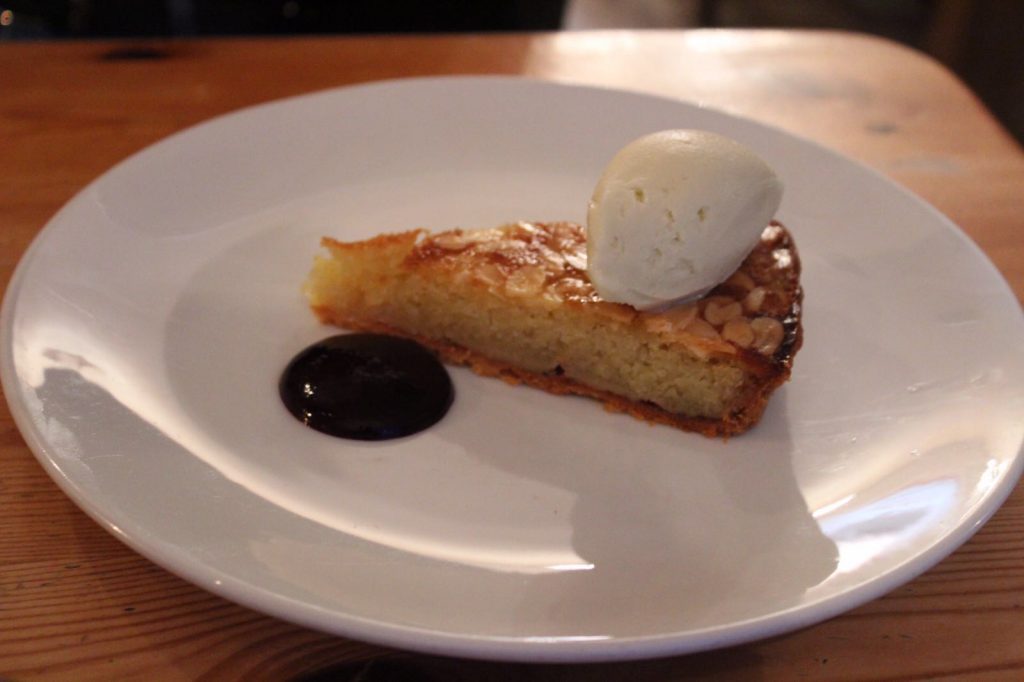 Usually I steer away from desserts, but the smiley waitress informed me that I "had to make room the tart", this charming restaurant hadn't steered me wrong so far so I agreed. I am so glad I did not have those additional parmesan chips, even though they too were fluffy and delightful as I was not prepared for how good this gooseberry and almond tart was. The textures were simply magical. My only query would have been the sour sorbet, which accompanied it, but this tart alone was such a highlight the sorbet did not distract.
It was the perfect ending to a more than pleasing experience in this warm Chester restaurant Sticky Walnut, I wish there was more of these relaxed restaurants in my area, which let their food, do most of the talking but for now make sure you try this restaurant if you are in the area and even if you aren't, it is definitely well worth the journey.
Sticky Walnut 11 Charles Street, Hoole, Chester, Cheshire,
Tel: 01244 400400.
Open lunch, Mon-Sun, noon-2:30pm, dinner Sun-Thur, 6-9pm (Fri and Sat 6-10pm)
Around £35 a head for three courses plus drinks and service