2018 has opened up with yet another interesting fad that's sweeping the nation, something known on the streets as 'Veganuary'. The alternative fad to this that was blowing up through 2017, was something known as Flexitarian (how many more trends do we want to come up with seriously?). And whilst I still think this isn't the best idea for the passionate meat eater like I am, change is sometimes a good thing.
Apparently 91% of the nation is adopting this flexitarian way of life, with a third of most evening meals containing no meat at all. Mad you say? We felt exactly the same way, in some respect. But through my resistance to try a new eating lifestyle; Sainsbury's have come through with something worth giving a go on the long run.
January see's the Sainsbury's launch seven new and exciting plant-based lines, which give us the meat free solutions we may be seeking (in our case willing to try out). We tried out three of the seven lines in a excellent cooked up spread, so take a read down below for what's on their new menu:
Sainsbury's Sweet & Smokey BBQ Pulled Jackfruit
Succulent, juicy and flavoured are the words which Sainbury's used to describe this, which we greatly concur. Considering the chuck this into a taco and you're good to go, for a mouthful of goodness, with a surprisingly deceptive meaty taste. The newly discovered jackfruit has a fused flavour of both pineapple and pear, which weirdly possess the ability of imitating the very pulled pork we love so well. I had to catch myself at one point and remember this it is NOT meat, but what did it matter, the flavours and filling feel were good enough for me.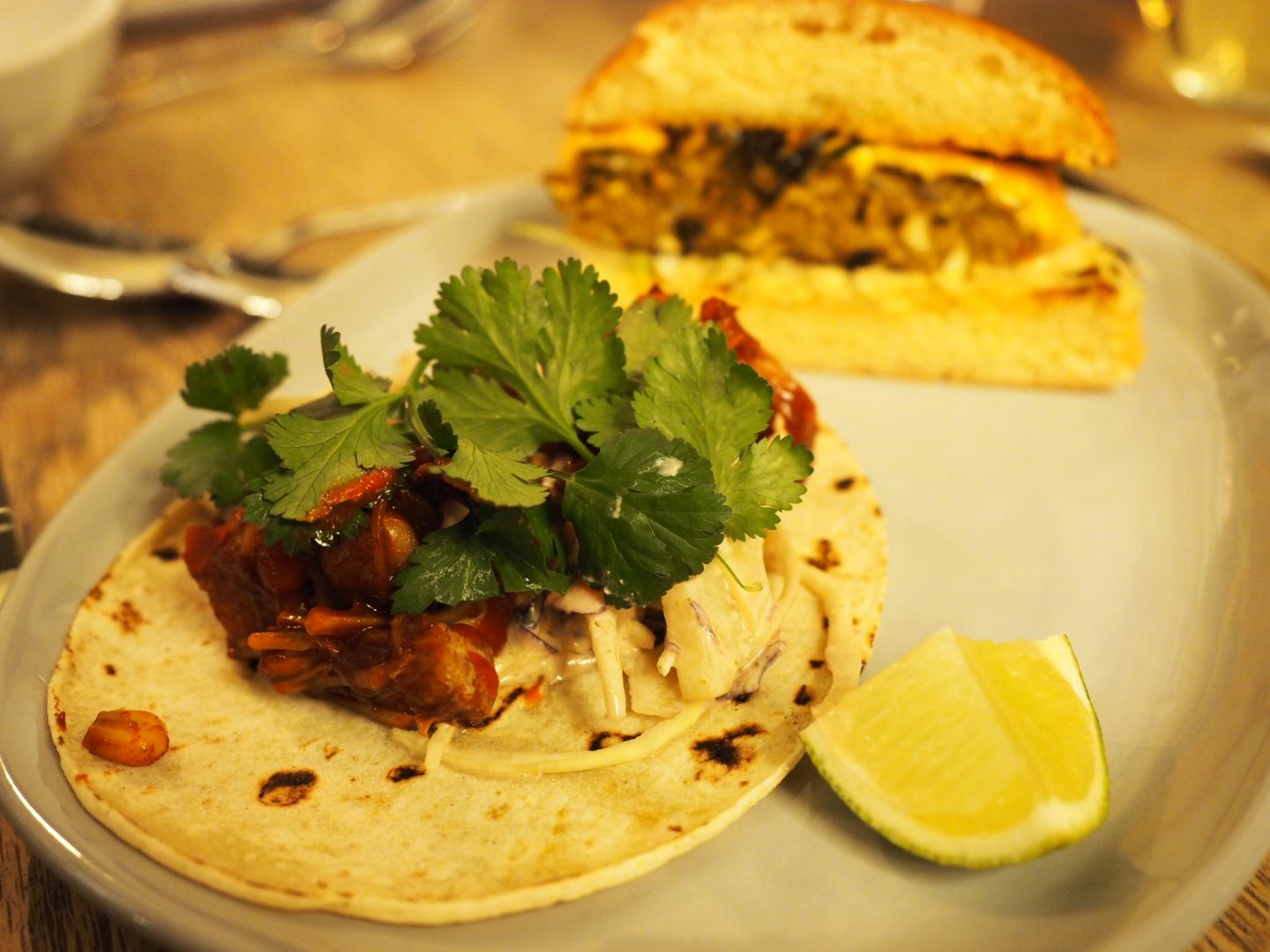 So that's one tick to Sainsbury's there, for pulling out an impressive alternative so far.
Sainsbury's Cumberland Shroomdogs
Next on the menu was the real tester for me, as only the beloved Linda McCartney has ever made me swoon for an alternative to actual sausage. Sainsbury's have brought along two options of sausage alternative; their caramelised onion shroomdogs, followed by their Cumberland shroomdog which we tried at the time. Their take on the original sausage consists of you guessed it right, mushrooms. In addition theirs is peppery warmth to jazz it up flavours wise.
Whilst garnished well and still had that relatively accurate meaty texture we expect from actual sausages, I kind of didn't have the same buzz with these. They look the part and somewhat smelled the part, but rather dry when it came down to chewing and swallowing.
Sainsbury's Mushroom Mince
The final Flexitarian conquest to overcome, with hope it maintains an impression like the first. This is Sainsbury's lighter alternative to your more traditional mince meat, which was put into an impressive beef patty. And by god was this a game changer. After bite number 6 I had to ask myself "Are they messing with me and this truly is a real burger after all"? In end I was being very paranoid and it was indeed a very delicious mince meat alternative. Sainsbury's I take my hat off to you for converting me on this one.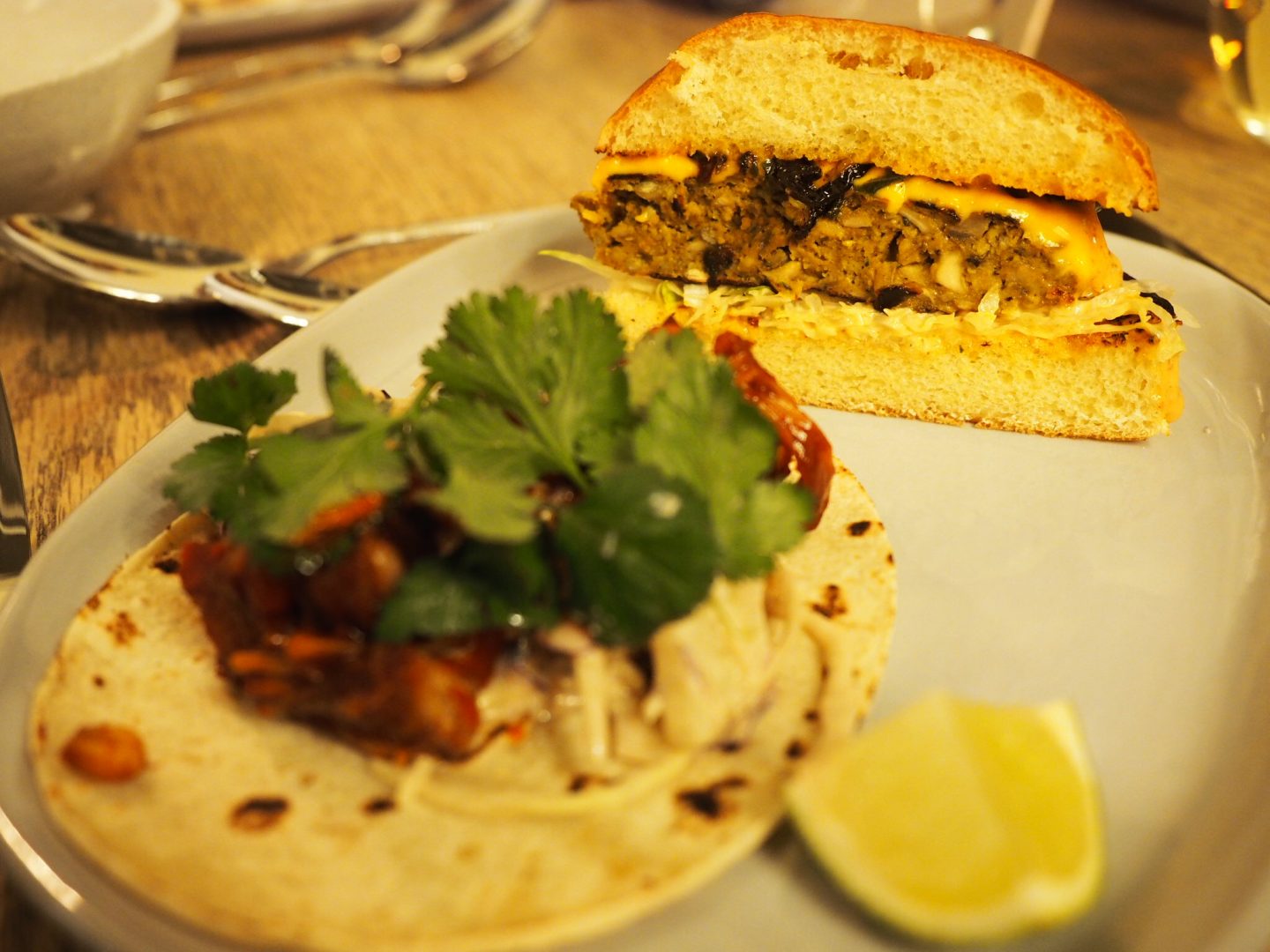 So there we have it, the Flexitarian alternative, brought to you by the well respected Sainsbury's. Some of the interesting dishes served were very impressive and in some cases, completely changed my perception of classic cuisine. But with all of that in mind, I will take my time to completely neglect meat completely (my protein cravings still demand it), but the alternatives on the market are looking very promising.
All of the new range from Sainsbury's are now available online and in store, all aptly located in the vegetable agile of your local.