In 2015 in a fit of anxiety over whether we would ever be able to buy a home together in London – Maketh-the-man took the bold step of panic buying a pair of ornamental gardens flamingos.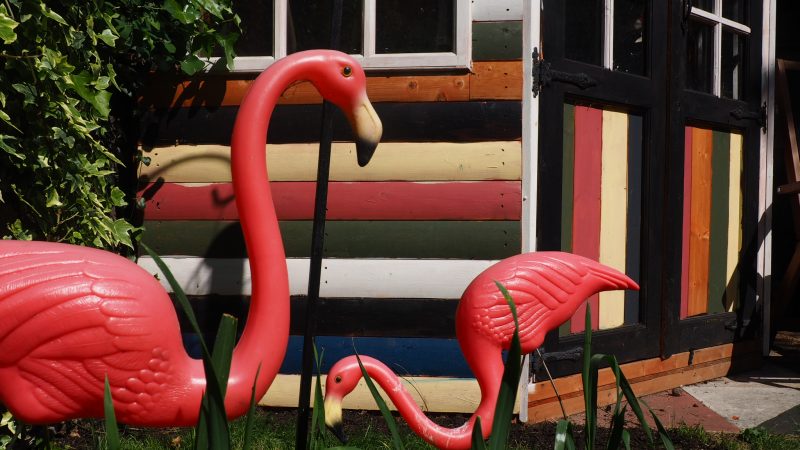 It was a little rash especially given that our rental home didn't even have a balcony.
The impulse bought flamingos sparked level 8 argument about the purchase of useless shite of which we had no space for …. and subsequently the dapper dippers got stuffed in a miscellaneous pile of said useless shite and forgotten about for the next year and a half.
They remained unopened, untouched and unadmired in their kitschy, tropical print box until we found ourselves miraculously on the property ladder and simultaneously owners of of very own and very first 'patch of earth'.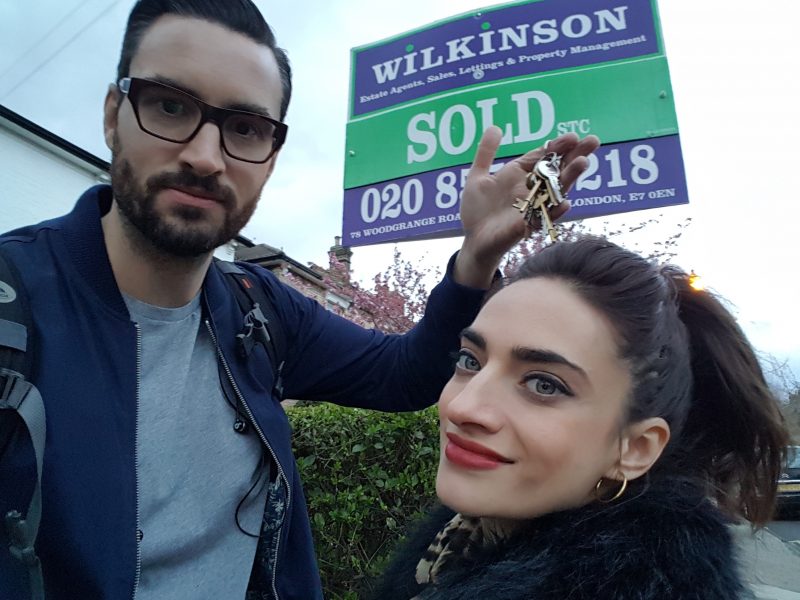 There is a reason I use the phrase 'patch of earth' rather than anything affiliated with a green space. That's because it looked like this !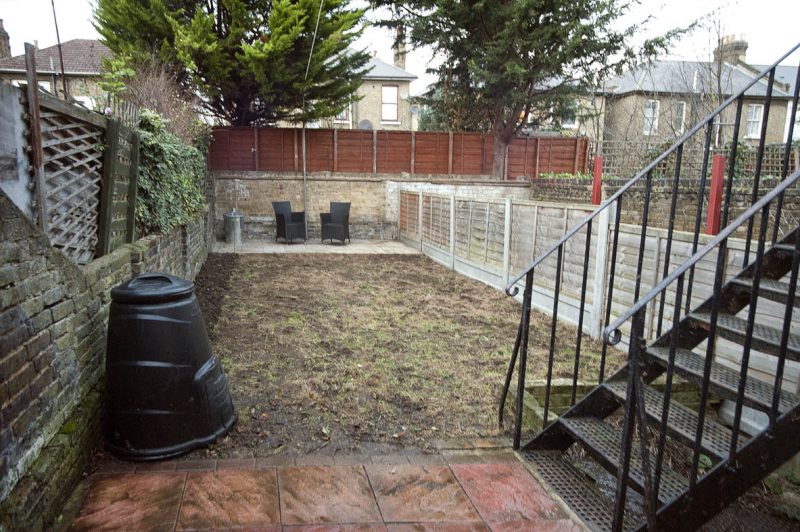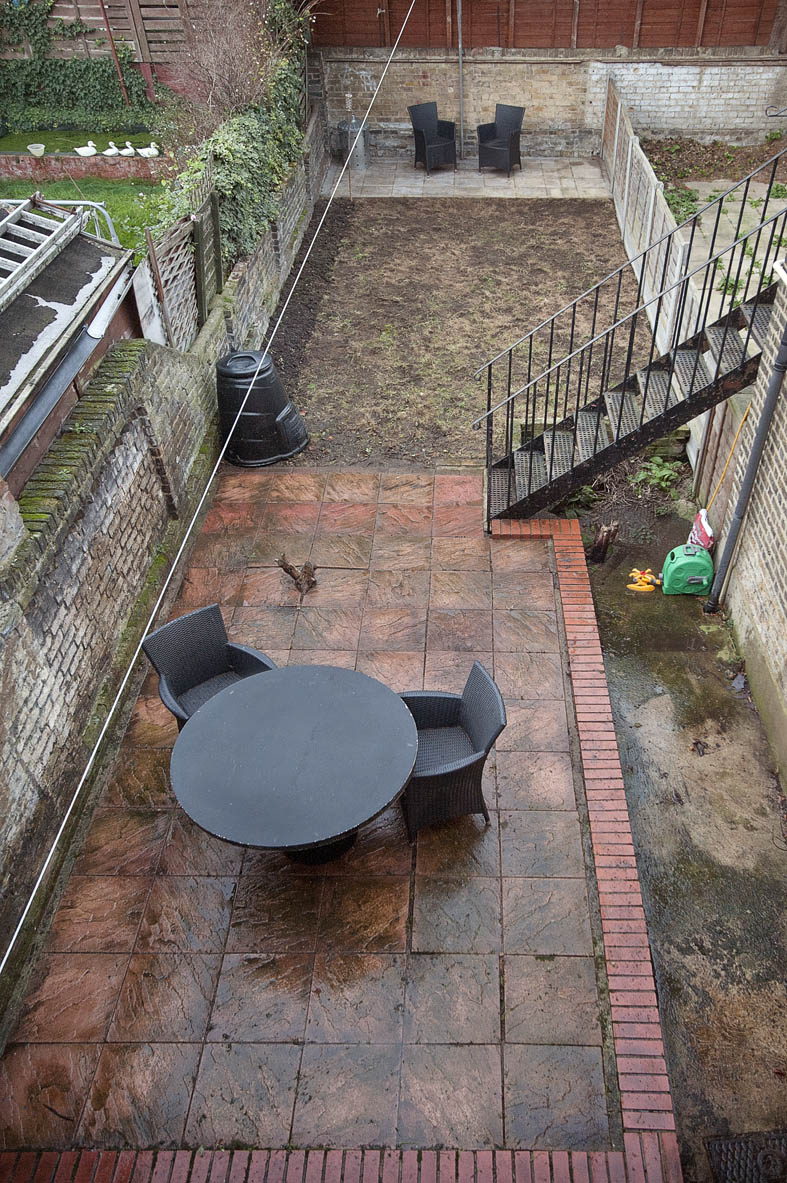 A blank canvas one might say …. a project for sure, Much like the rest of our new home.
We stuck the flamingos in the dirt and set about designing the garden around them.
The brief was to create a tropical paradise where we could spend summer days eating, drinking, sunbathing and entertaining! Also we had no choice but to do it all ourselves to keep the costs down.
Our first step was to prepare the soil for turf which involved many hours of weeding and overturning followed by a particularly memorable full day of watching callum stomp the earth flat wearing a pair of D&G hotpants and Hunter Wellington boots. I drank prosecco for that bit. We laid the turf together and finally it looked a bit Gardeny.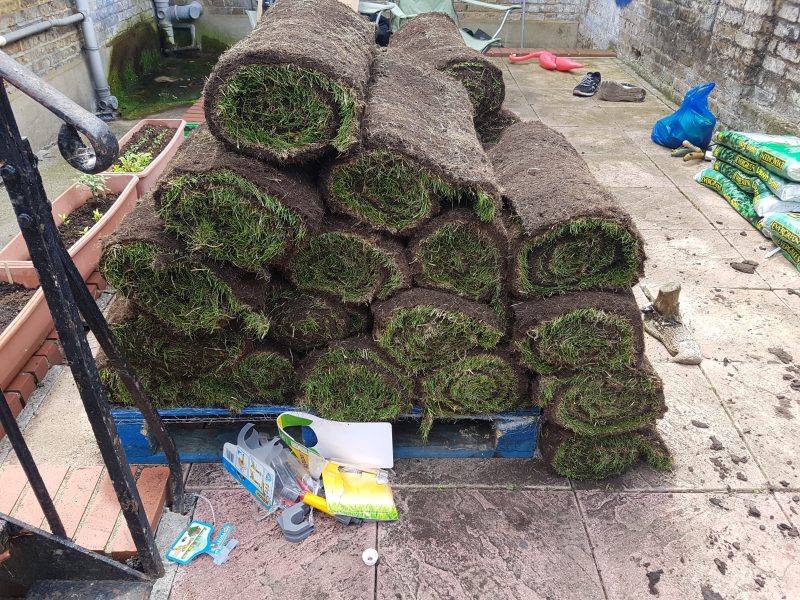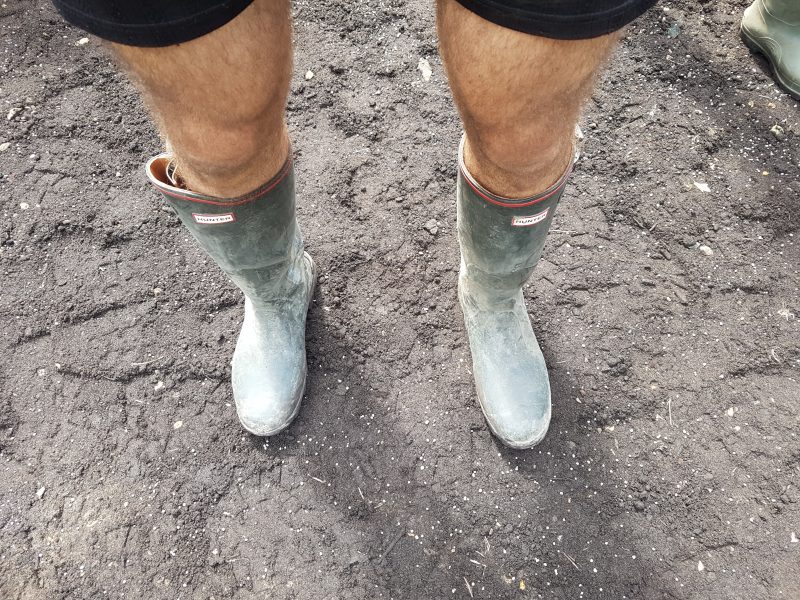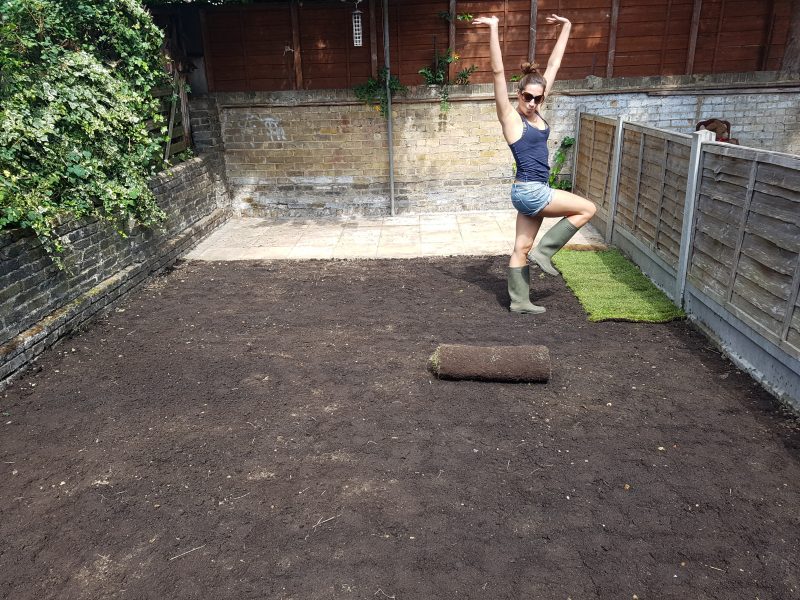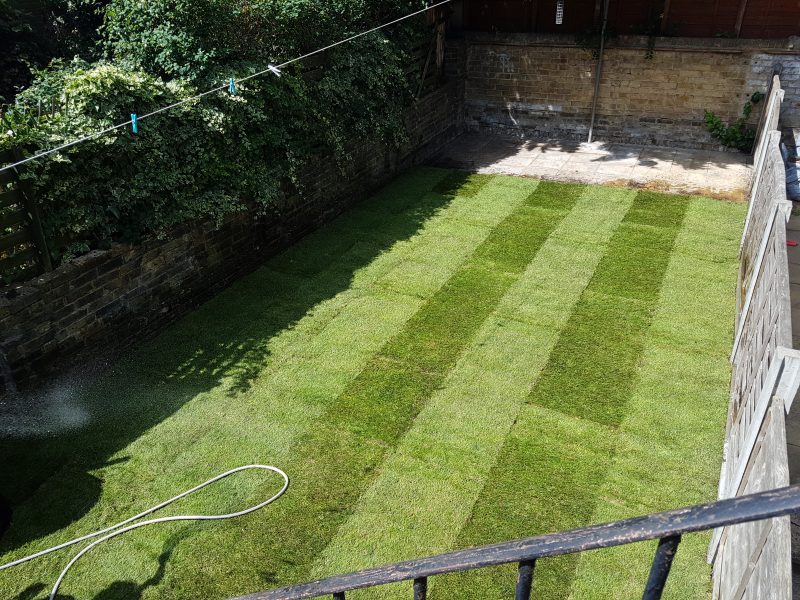 Callum was adamant about decking the patio section until he realised it would set us back 4 grand. Instead I purchased a stencil kit from etsy and printed the entire area by hand with a stiple brush and masonry paint. It took 14 hours and gave me hunch back but I don't regret a thing! It looks like Moroccan tiling!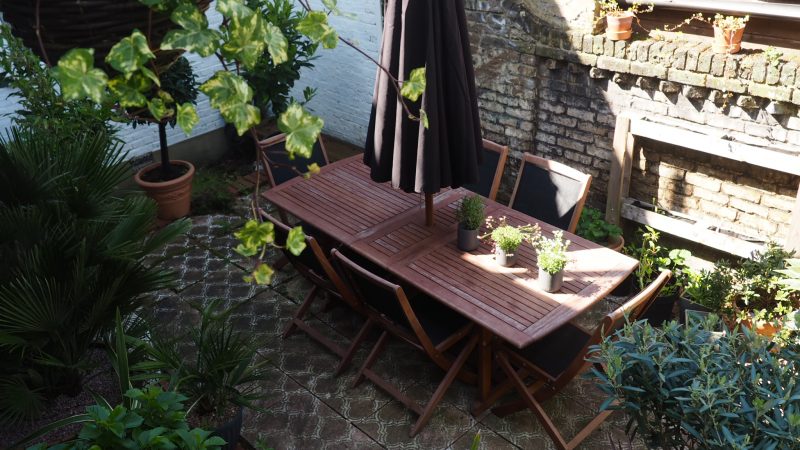 We surrounded the patio with numerous tropical potted plants, bamboo, bee friendly flowering plants and even a peach and cherry tree.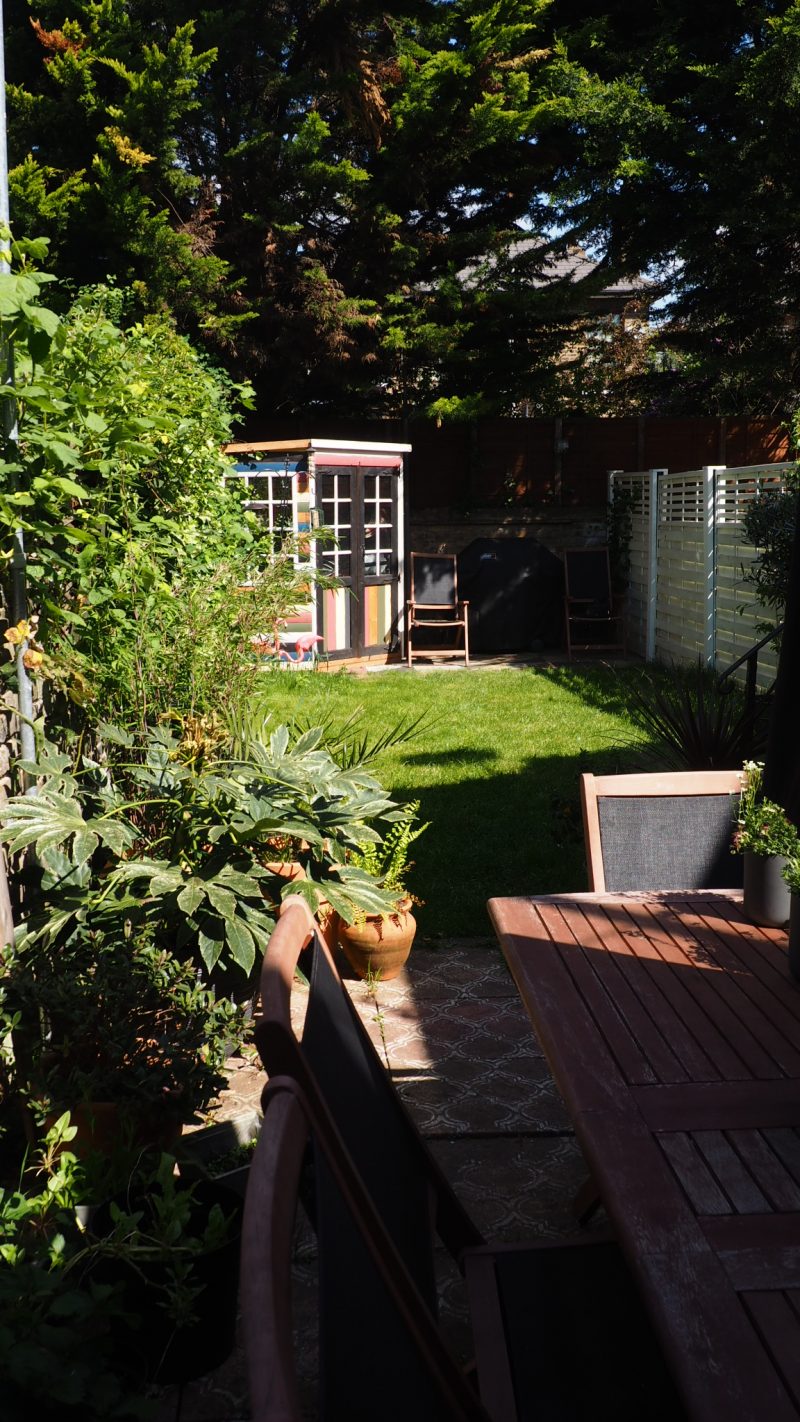 We have a herb garden too! Our obsession with love island inspired a zig zag formation of festoon lights.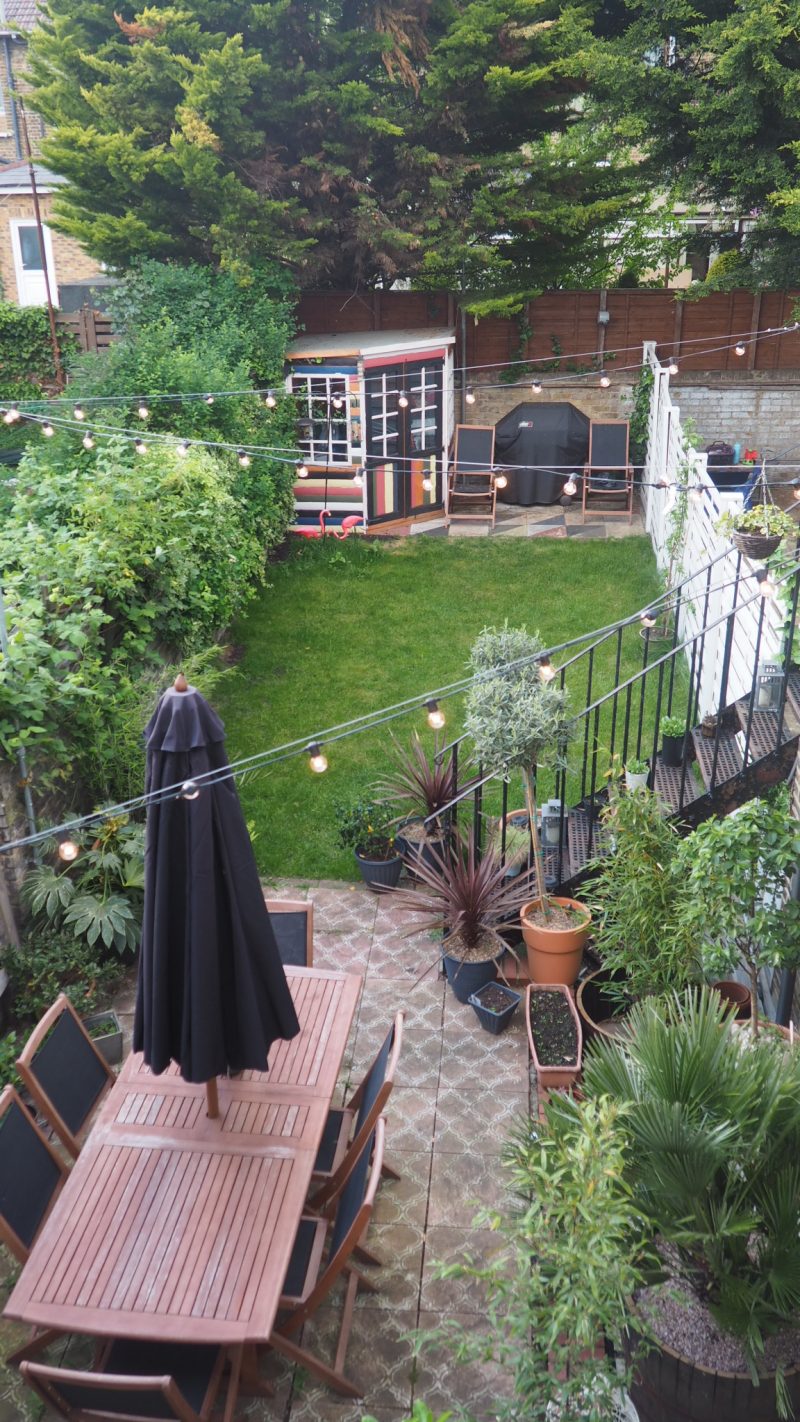 Callum bought a Weber BBQ after much intense and 'manly' research. He also proclaimed that he couldn't live without a man shed which was promptly painted all the colours of the rainbow to provide a kitschy backdrop for our flamboyant friends.
To be honest whilst I have splurged on chandeliers and soft furnishings for the inside of the property, Callum has invested in outdoor stuff … a fabulous 8 seater outdoor dining table, a chimanea and a tremendously tall fence were top of his hit list.
I'm glad he prioritised it. The garden is a haven. It's an additional room for us in the height of summer. Indeed I'm writing this post sprawled on a picnic blanket on the lawn we laid ourselves.
It's scorching hot. We're both burnt and blissed out. Our garden mascots are still standing proud. Their fluorescent hue may have faded slightly but I don't think I could part from them. They represent Callum's belief in our life goals back when I couldn't even begin to visualise the future reality!
He's definitely onto something!
If you are currently fantasising about your future garden …. it's time to buy yourself a gnome!
Written by Anabel Kutay.