A necessity for every skincare routine, exfoliation is essential for removing dead skin cells, minimising pores and wrinkles and revealing a cleaner, brighter smoother skin. Sounds good right?
The frequency of exfoliating really depends on your skin type. For example, for Dry skin, at least twice per week, normal/combination skin, once per week and Oily skin once every 10 days. This is just a guideline.
So, when it comes to exfoliation, I have broken this down into 2 different options:
MECHANICAL exfoliation is when you use a scrub. This contains particles/beads that manually buff away the dead skin cells on the surface of your skin. Brands use different ingredients for this for example, volcanic rock, pearl, seeds etc.
CHEMICAL exfoliation is when you use a solution which usually contains acids (don't worry, these acids are skin safe) which literally dissolve the dead skin cells. You usually apply this to a cotton pad and sweep over your skin. I find this method much quicker.
My favourite mechanical exfoliator has been a firm favourite of mine for the past 10 years. I remember I had run out of my usual exfoliator and an old colleague of mine told me I needed to try MODERN FRICTION by ORIGINS. This gave me the wow factor from the first time I used it. Origins is a beautiful brand committed to respecting your skin and the planet. Their team of scientists and botanists combine the powers of naturally derived ingredients with the most advanced scientific research.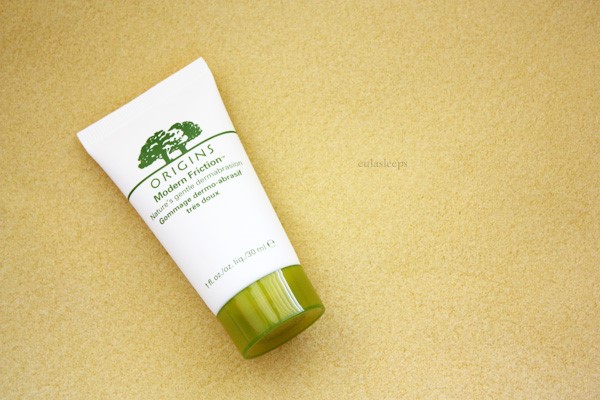 ORIGINS 'MODERN FRICTION' £27 for 75ml.
So, what is this product going to do for me?
It uses skin refining rice cushioned in a rich cream to remove those surface dead skin cells while lemon oil will work on brightening your complexion.
What do I like about it?
Modern Friction makes me skin feel as smooth as a babies bottom (but smelling a lot better). My complexion is instantly brighter and my moisturiser is absorbed quicker into my skin. It comes in a very handy squeezable tube and it lasts for ages. Happy days!
How to use.
Squeeze a small amout into hands ( about the size of a 5 pence piece). Massage into clean dry skin. If you are sensitive, apply to a damp skin. Make sure you avoid the eye area! Add a splash of water and use circular motions, rubbing with a gentle pressure around your face. I would do this for around 1 minute. Remove with warm water.
TOP TIP…
Rinse this product off when you are in the shower. Close your eyes and let the water do all the work!
My favourite Chemical exfoliator which I use in my facials is YOUTH RESURFACING PEEL by DARPHIN. Easy to apply and you only need to use this once per week. Darphin is a luxury French brand with over 60 years experience of working with the skin. They use the finest plant extracts and essential oils fused with the latest in technology to bring you sensory results driven products.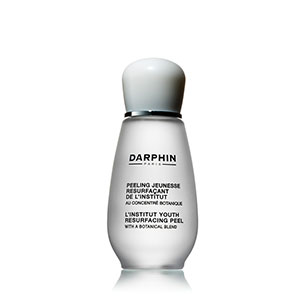 DARPHIN 'YOUTH RESURFACING PEEL' £50 for 30ml.
So what is this product going to do for me?
Using PHA's (polyhydroxy acids) this liquid will give you the equivalent of a glycolic peel with less irritation to the skin. Pores are minimised, the apearance of lines and wrinkles are reduced and the signs af ageing are minimised.
What do I like about it?
It is so quick and easy to use with no mess. I personally have to be careful with acids as I have sensitive skin so this is a great alternative to some of the more aggressive peels out there.
How to use.
Apply solution to a cotton pad and dust over a clean dry skin. Simple.