I think it's safe to say that you should always have a wingman, some who has always got your back and best interests at heart. It's fair to say Wingman have marvellously outdone themselves when delivering a full grooming range. Once I first got my hands on the Wingman routine kit I was overwhelmed by how many products there were. But I quickly found my bearings and understand that every one of these products has a purpose and use. Not to mention, if you ever wanted to keep it fresh you can alternate between flavours, so it's never repetitive.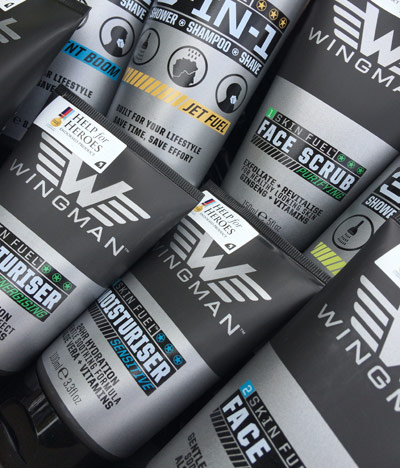 As you've seen Wingman have wisely endorsed the wonderful charity that is Help for Heroes, which I can only offer my admiration for these fine gentleman taking an awareness in supporting such a great cause. I know other brands have also finely associated them selves with equally great charities which I would like to see more of as it helps knowing when purchasing that you're doing a great thing whilst investing in your skin at the same time. Please also bear in mind this is my personal view if you will, so please don't be offended.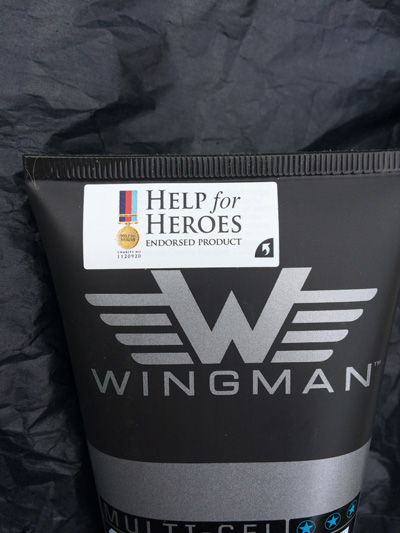 I enjoyed each of these products, the Mint Boom blew me away not only by the colour of the gel but also the smell and feel, like a gentle smack across the face. While the face wash was very pleasant and not too overwhelming, the face scrub was very satisfying and gave extremely amazing results. The moisturiser had to be the hit of the show as I've honestly never felt my skin so soft and not flare up blotchy or dry. Remember, using a little goes a long way and using a circular motion, rub it into the skin but avoiding your eyes.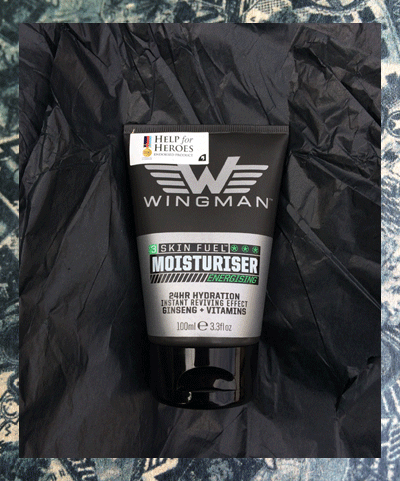 The three steps to fuel your skin are very simple indeed, repeat after me.  The range itself comes:
Scrub
A purifying face scrub which helps to exfoliate + revitalise
Ginseng + vitamins
Wash
A cleansing face wash which gives that deep clean effect
refreshing + non-drying
Ginseng + vitamins
Moisturiser
An energising and 24HR hydration moisturiser
Ginseng + vitamins
Not to worry, these also come in another version, packed with Aloe Vera instead of Ginseng for those of you who have more sensitive hides like myself.
I understand being a full time gentleman can be a task in itself, thankfully Wingman have also produced a three in one bottle solution which helps you on those off days of partying or last minute travelling. This all built in one gel allows you to shower, shampoo and shave which saves you time and effort.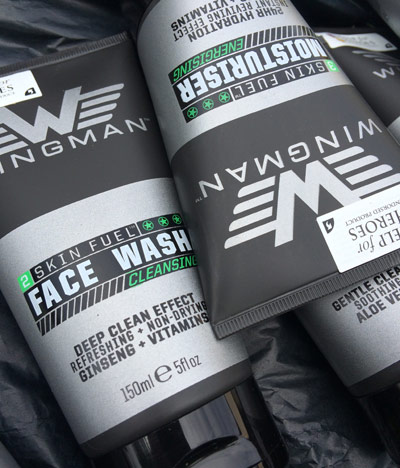 These are available in three sublime scents:
Jet Fuel
Citrus Charge
Mint Boom
A well crafted line of products that are not only made in Britain but have not been tested on animals and are ideal for anyone living in the fast lane and looking for adventure everyday. I also have to say that the man facts on the back of the bottles will keep you thinking while working through the grooming routine, nice addition indeed gents.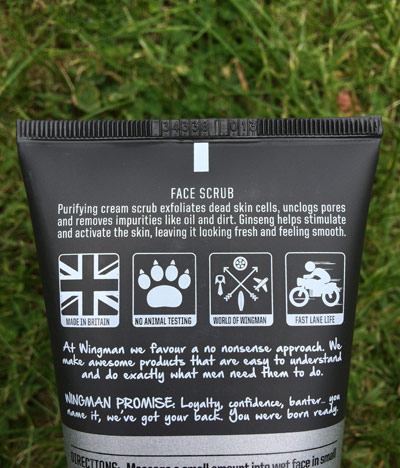 Particularly amazing is the price, making it affordable for all walks of life, whilst still maintaining a high standard of product. If you find yourself short of someone to watch your back, head over to Wingman to get your hands on these, but keep your eyes on high street stores, coming soon!
Written by Alex Auld.