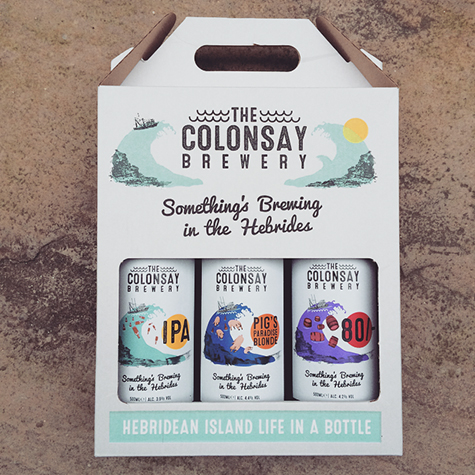 That's right, for all you who did well in geography the Colonsay is an extremely small island located off North Scotland. But what makes this island so great and stand out from the rest? The answer is ale! Many assortments of ale, which is very impressive from such a small, compact island. Living on a larger island myself, it only seemed fair that I put these selected few ales to the test! And what occasions I would find myself drinking them at! Yes, ales can be drunk at certain gatherings, allowing you to enhance the mood and gain respect from your peers, for they will be complementing you for your vast knowledge and impeccable taste.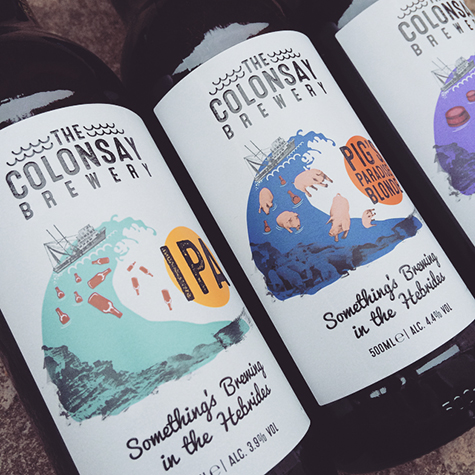 IPA – 3.9% vol
This citrusy classic has the lightness of a summer's day on our remote Atlantic outcrop. With pure Hebridean water in its veins and bittersweet hops in its heart, this is a session beer that showcases our brewing passion.
80/- 4.2% vol
The classic Scots ale is a dark and brooding as the winter storms that sweep over our remote Atlantic outcrop. There's a hint of peat and a tang of salt in our seaside brewery's 80/- masterpiece. Ingredients Hebridean water, malted barley, wheat, hops, yeast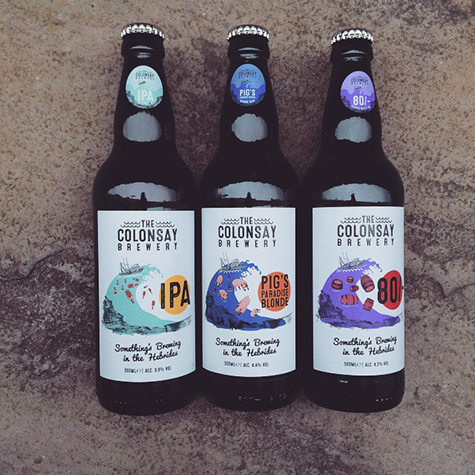 Pig's Paradise Blonde 4.4% vol
Our prized blonde beer named after the best grazing on the island where, in days gone by. Porkers feasted by the crashing seas on a rich wildflower patch of grass. Our blonde has real depth and a crispness to quench the mightiest thirst.
Pig's Paradise Blonde
If the name doesn't get your attention then a wiff of this heavenly scented beer will. This ale has to be the safest option out of the whole three. Served ice cold, with a delicious depth of crispness and slight dry aftertaste that could quench anyone's thirst. An all rounder ale that could be found at any occasion , one that comes to mind would have to be Christmas it has everything you could want whilst tucking into a classic Christmas roast and dozing out later in front of the fire place with the family around you.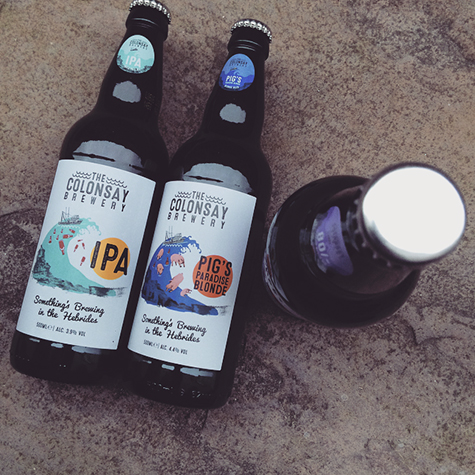 80/-
Upon opening this ale I found the scent very earthy and heavy. Brooding in appearance, this could be a very unforgiving drink for anyone who hasn't had there fair share of ales. Feeling brave? Go ahead, you'll wish you hadn't as you'll be hooked after your first mouthful! Definitely an ale that would be perfect for a lads night in!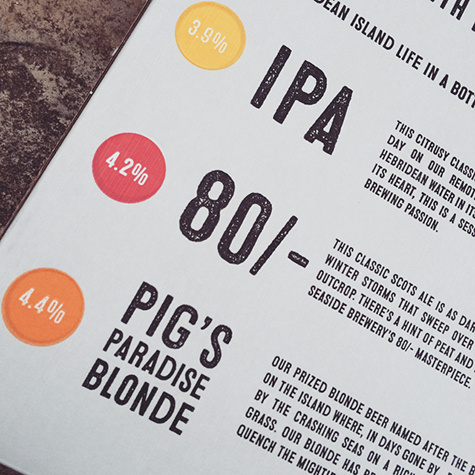 ipa
The scent is very light, which is always a bonus, not too overpowering. Straight in to the taste which has a contrast of a very light subtle citrusy dab on the tongue followed by a strong and punchy, but satisfyingly sweet hopiness on the way down. I guarantee as soon as you smell and take your first sip of this ale you'll be thinking the same thing! Simply, this has to be the ultimate ale for the summer barbecues. A perfect beverage that could be sat beside a rack of smoked ribs whilst reminiscing with family and friends, as the sun sets.