Believe it or not it is spring time and although the weather isn't quite there yet this fine 2017, one is still preparing for the lighter warmer days.
To get my fix of spring I head down to Ted Baker to meet the team and the legendary founder of the brand, for a good afternoon of browsing and selecting my favourite pieces in their new collection.
Tops
And so the minimal trend of mine continues, as I try to reach complete scandi style. With grey the right tone of colours are limited, but that doesn't mean you have to go for boring. And with that in mind my choice of upper layer was a t-shirt and my choice of t-shirt was Ted's standard PIK Crew neck cotton T-shirt.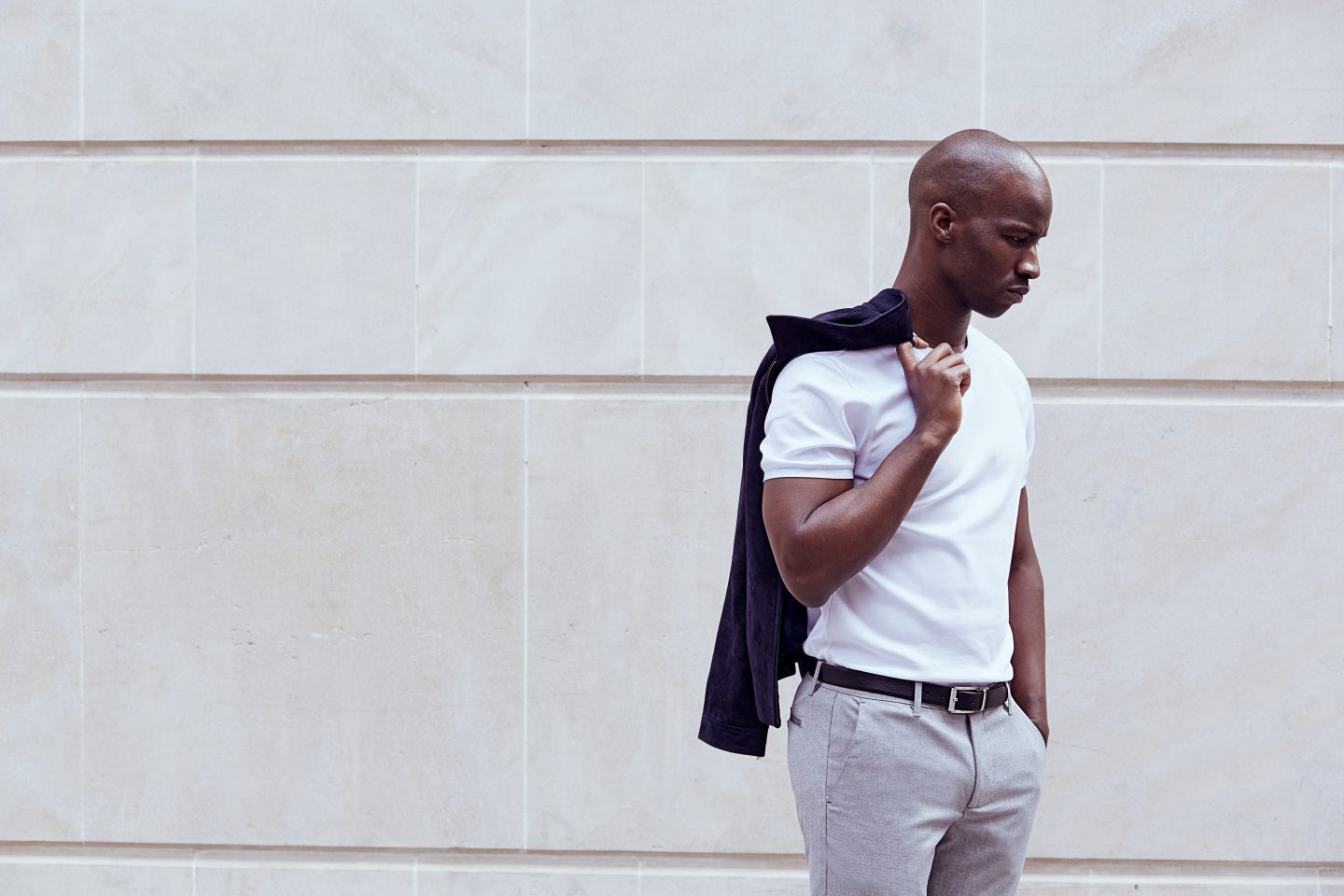 It's not just another crew neck t-shirt you can pick up from any old place, this crew neck is subtly enhanced by its contrast sleeves and collars to give it that extra point of difference. It's the kind of top that can easily go with smarter trousers, but also jeans and clean cut joggers.
Trousers
Trousers, pants (if you're American) whatever you call them we love to wear them. My usual style is very traditional when it comes to smarter trousers. They have to be correct length (down to the ankle) and they have to be a navy or a black colour. Time to get out of the comfort zone and opt in for something a little more scandi. And so I breeze through Ted's shop floor, only to fall for the cropped grey slim fit trousers.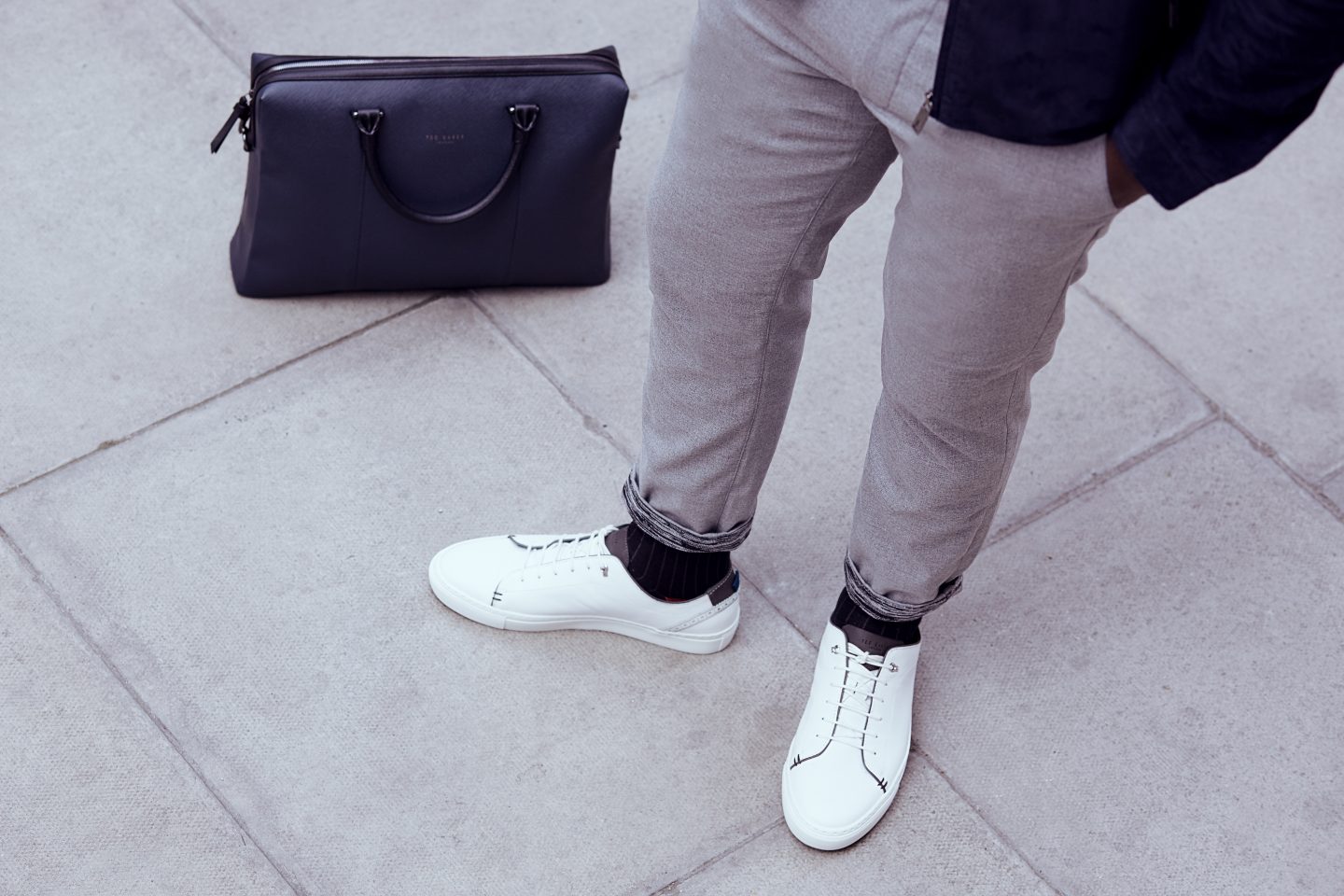 And as I just noted these bad boys are cropped. Do I feel uncomfortable in them, absolutely not! Have they just changed my meaning of the Mr Welcome 'key statement pieces', indubitably! These are cropped at just the right length, with added detail at the cuff, to fold up and give a bolder look to your style. As we roll in to summer, you can count on me to be wearing all the cropped trousers Ted Baker can throw at me.
Jacket
This find was a special moment, which was unexpected but worth the discovery. My original choice was going to be a darker bomber jacket, until a left turn in the next corner of the store locked my eyes onto this bad boy.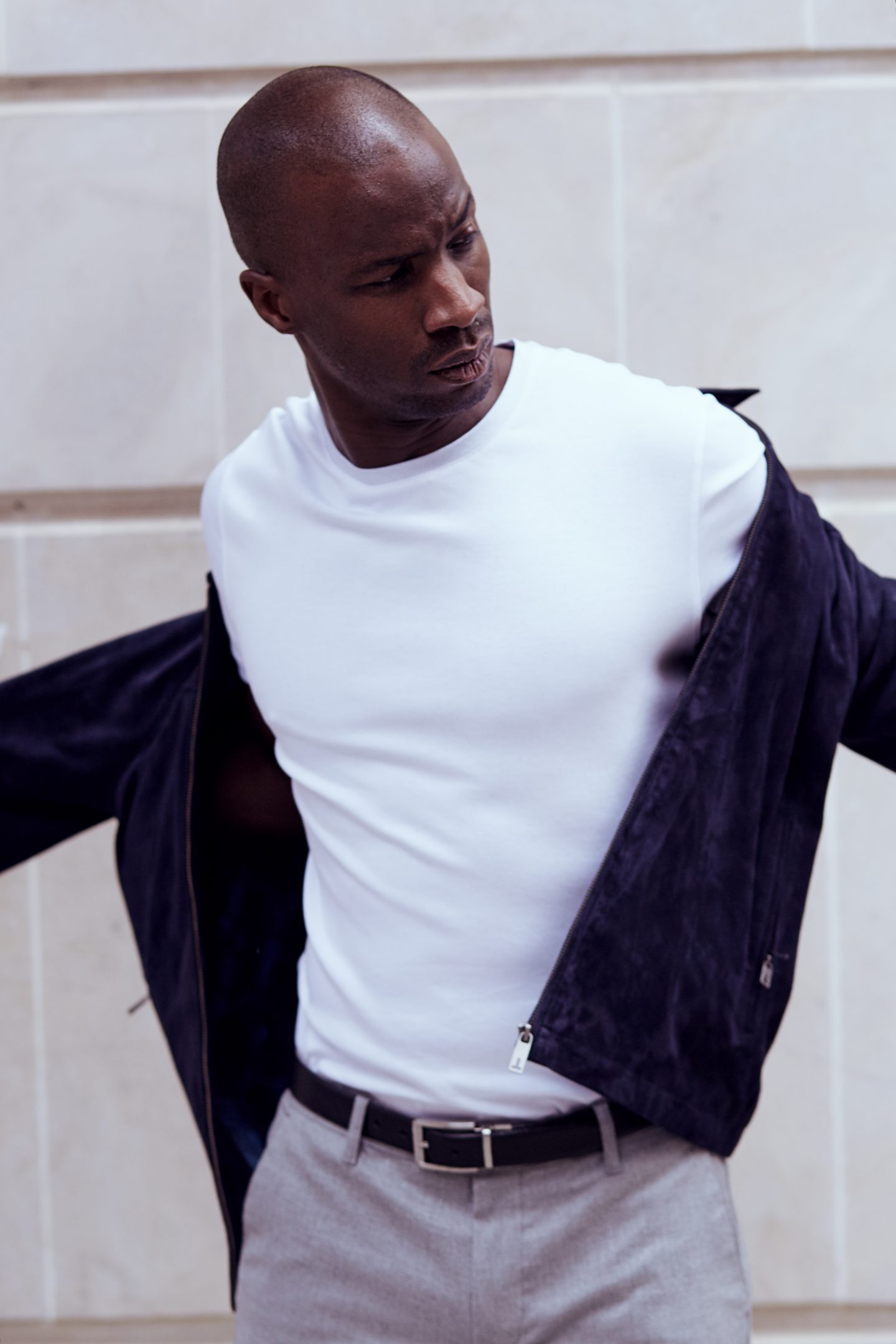 There hanging up for all to see was their LAZER Suede collared jacket in navy, which felt as soft as it looked (maybe even softer!). Fortunately I jumped at this quick before anyone else could, once I managed to stop drooling on the spot. This is a perfect luxurious piece of outerwear, perfect to compliment the cleaner types of style uniforms.
Shoes
I've come to a new stage in my life where trainers is life, throughout any style I go for. The way trends have moved now, formal looks can still be maintained, of the trainers paired up are as clean and minimal.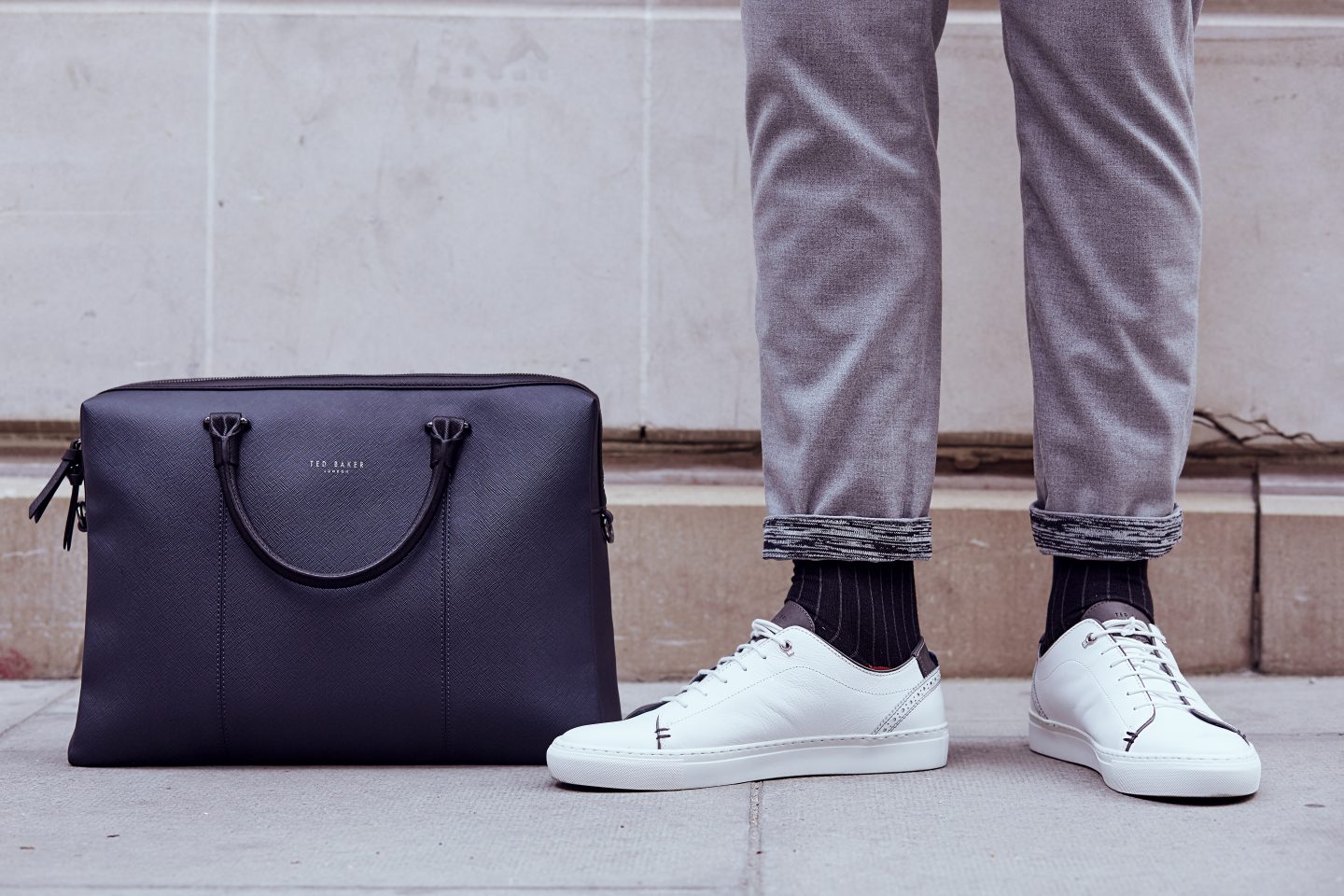 Ted's leather brogue trainers were my first call, to give me that real 'smasual' style I live for. Detailing is strong, the leather is soft and the design is minimalism personified. A pair of these in your wardrobe and you won't go wrong.
Accessories
The grand finale of my outfit selection, the piece of the outfit that epitomises the true ethos of Maketh-the-Man. Accessories is life and the best way to really garnish your overall look. As a man on the move the need for a holdall is absolutely crucial to take everything with me, especially the laptop, copious phone chargers and documents.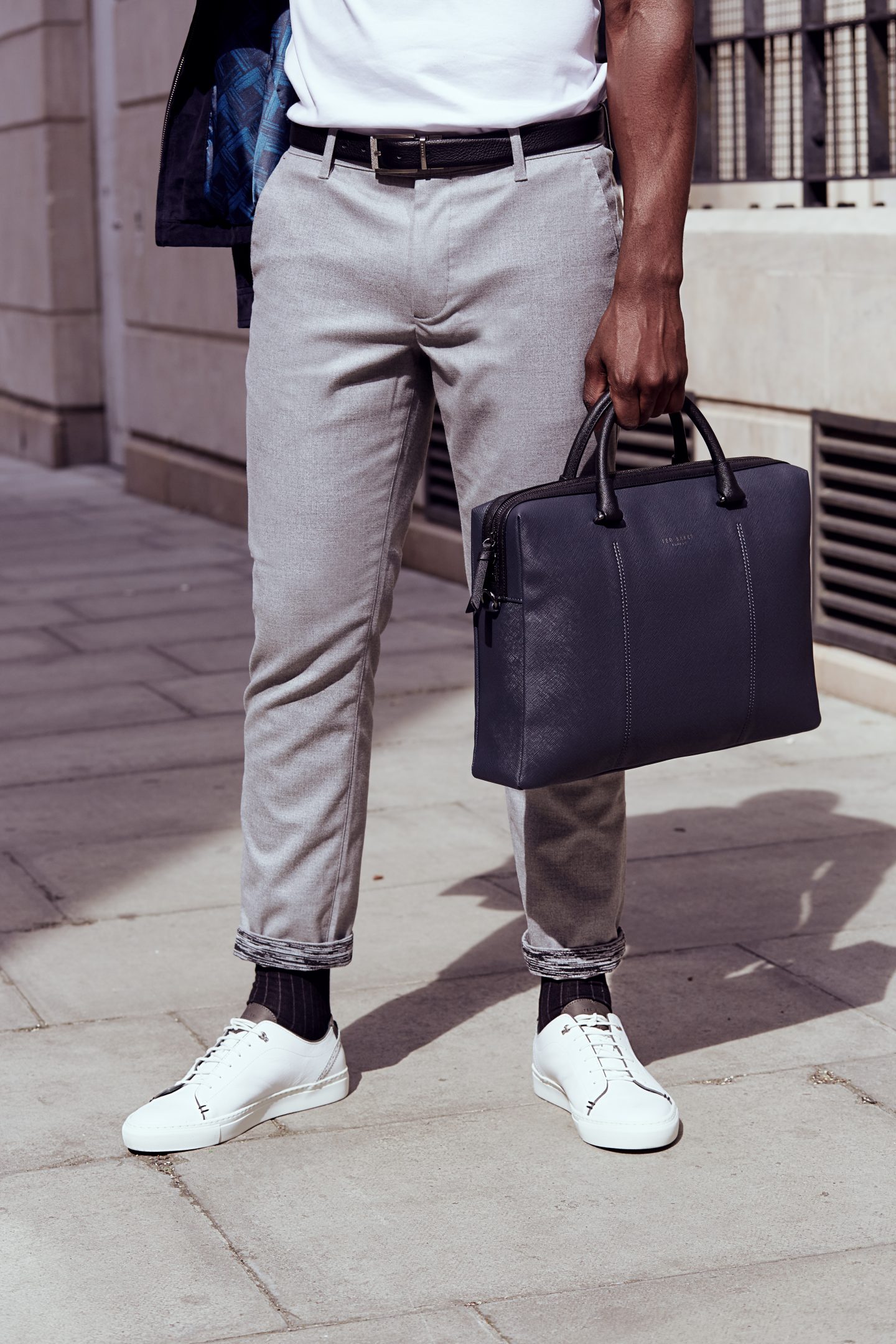 As always Ted Baker never fails to disappoint, with more leather options than I knew what to do with. But to go with the navy suede jacket toppings, I went with the Darrio leather cross grain document bag in a lovely navy finish. It's big enough to hold my day to day necessities and sleek enough to pair with most outfits I wear. I cannot get enough of it.
I could've literally spend hours looking at the entire new collection at Ted Baker, as they've absolutely hit the right notes across the board. There is something for everyone, from bomber jackets, to leather. Or a wide range or smarter footwear to select, but a strong appealing collection of trainers for the smart casual style of character.
If you're looking for statement pieces, look no further then Ted Baker. Have a look on their site and see what you think for yourself.
Photo Credit: Kyle Galvin