It is now 2021 and with the way things have been the last year, I needed to get a new toy to keep me occupying the time as best as possible. The Samsung Galaxy Tab S7 Plus (it's a quite a mouthful to say it all), was released around last year September time, becoming Samsung's 7th attempt at competing in the tablet race.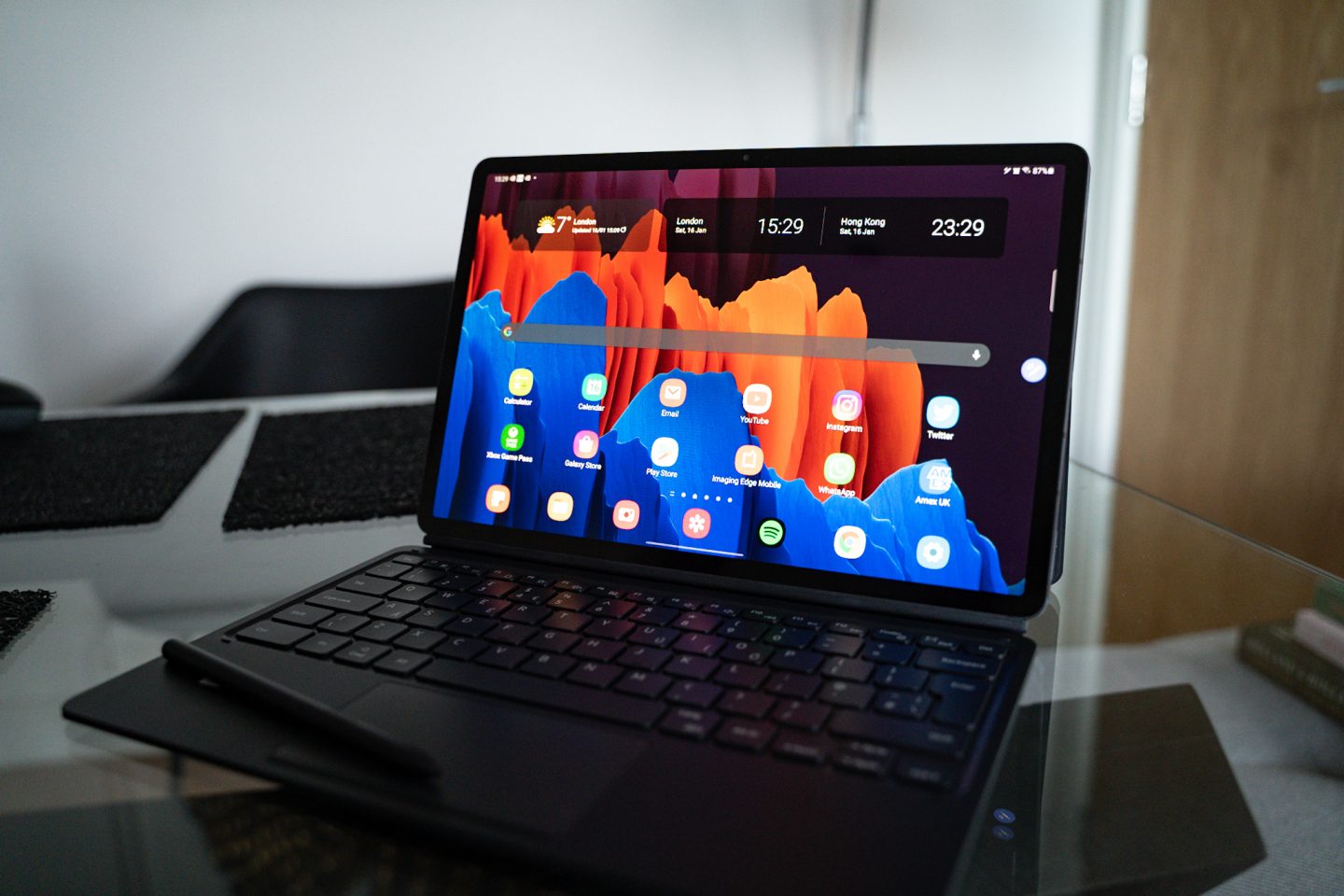 What We Love: Amazing Display, Speaker quality is excellent, Performance is fast and smooth, Dex mode has moved on quire a bit.
What we don't love: Keyboard cover isn't very practical, Battery performance is not the best , Android tablet apps still a pain, Some apps in Dex mode don't always work well.
Galaxy Tab S7 Plus Specs:
Snapdragon 865 Plus processor (3.09GHz, 2.4GHz, 1.8GHz)
6/8GB RAM + 128/256/512GB storage
Micro SD slot expansion (up to 1TB storage)
12.4″ Super AMOLED 120Hz display
Camera: 13 & 5MP rear camera, 8MP front camera
10090 mAh battery (up to 14 hours usage*)
Improved S Pen included
Display and Audio
We'll keep this short and sweet because the proof is definitely in the pudding. The Galaxy Tab S7 Plus comes with a 12.4" super AMOLED display, that churns out a staggering 120Hz refresh rate. This is one of the best refresh rates in a tablet right now and the S7 plus also adjust its refresh rate automatically, based on the content that's on display at the time (to help save battery). It's bright and pin sharp and with the HDR10+ high dynamic range, you can really see the definition and colours incredibly well. Display is a massive win for Samsung and they should take a bow here.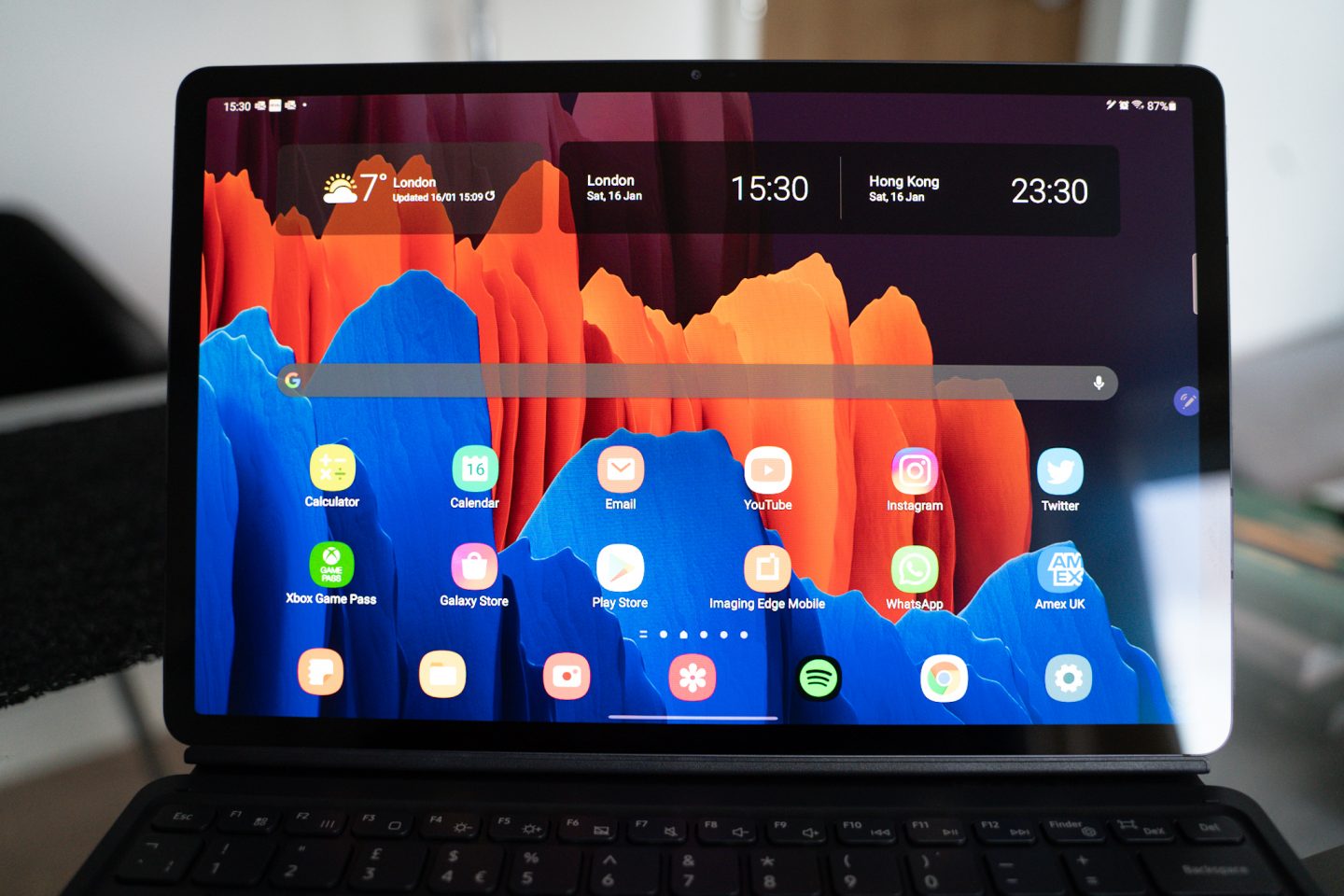 The finger print scanner is built in the screen on the Tab S7 plus, whereas it's built into the power button on the standard Tab S7. It's relatively responsive and unlocks the tablet fast but every now and then, it tends to not recognise the fingers which can be bothersome. The face ID system however…… It's a shame Samsung cannot get this one right still. There are no added sensors to scan the face properly which means in low light situations, the face will not be recognised at all (worse if you're not of fair skin either….).
And now onto the audio. Samsung's relationship with audio tech brand AKG continues on, with their set up reaching the Galaxy Tab S7 Plus (easily done when they're a subsidiary of the brand). But we're greatful for this addition as you get incredible sound as a result in the Tab S7 plus. There's a quad speaker set up built in which emits clear, crisp stereo sound that will making your music, movies and games sound brilliant.
Performance
We've heard many positive things about the Snapdragon processors in the past and how well they deliver. So it is no surprise that Samsung use them as their brain within their Galaxy Tab S7 Plus. Inside you will get the Snapdragon 865 processor, an octa-core chipset capable of CPU speeds of up to 3.09Ghz.
If you're a lover of mobile gaming like I have become, you will not be disappointed.With the power of the Snapdragon 865 processor, you can game with ease with apps like Xbox Game Pass. Connecting Xbox controllers is simple and the quality of gaming is fantastic. No slow down and no lag in the graphics, setting the bar in mobile gaming.
Main objective when purchasing this, was to make it more of a workflow driver when on the move (when the world is a little more open to do so). We opened up most heavy apps like Adobe Lightroom, Microsoft Teams, Outlook and YouTube and still, the Galaxy Tab S7 Plus showed little signs of struggle throughout the day even with most of those apps still running in the background. Big tick in the performance department.
Battery
But with great performance comes great power…… loss. As you give the Galaxy Tab S7 plus some welly you will see the 10090mAh batter feel the strain. Battery life is a mixed bag and despite the up to 14 hours they label it to have, that ultimately depends on what you're doing. As i mentioned i'm using this for more of a workhorse rather than a tablet to just watch videos and browse the web on, so we're seeing about 9-10 hours coming from it in that level of use.
If you hop over to the Dex mode however this can drop even further. I saw the power living for about 7 hours, in Dex more, with heavy hitter apps running.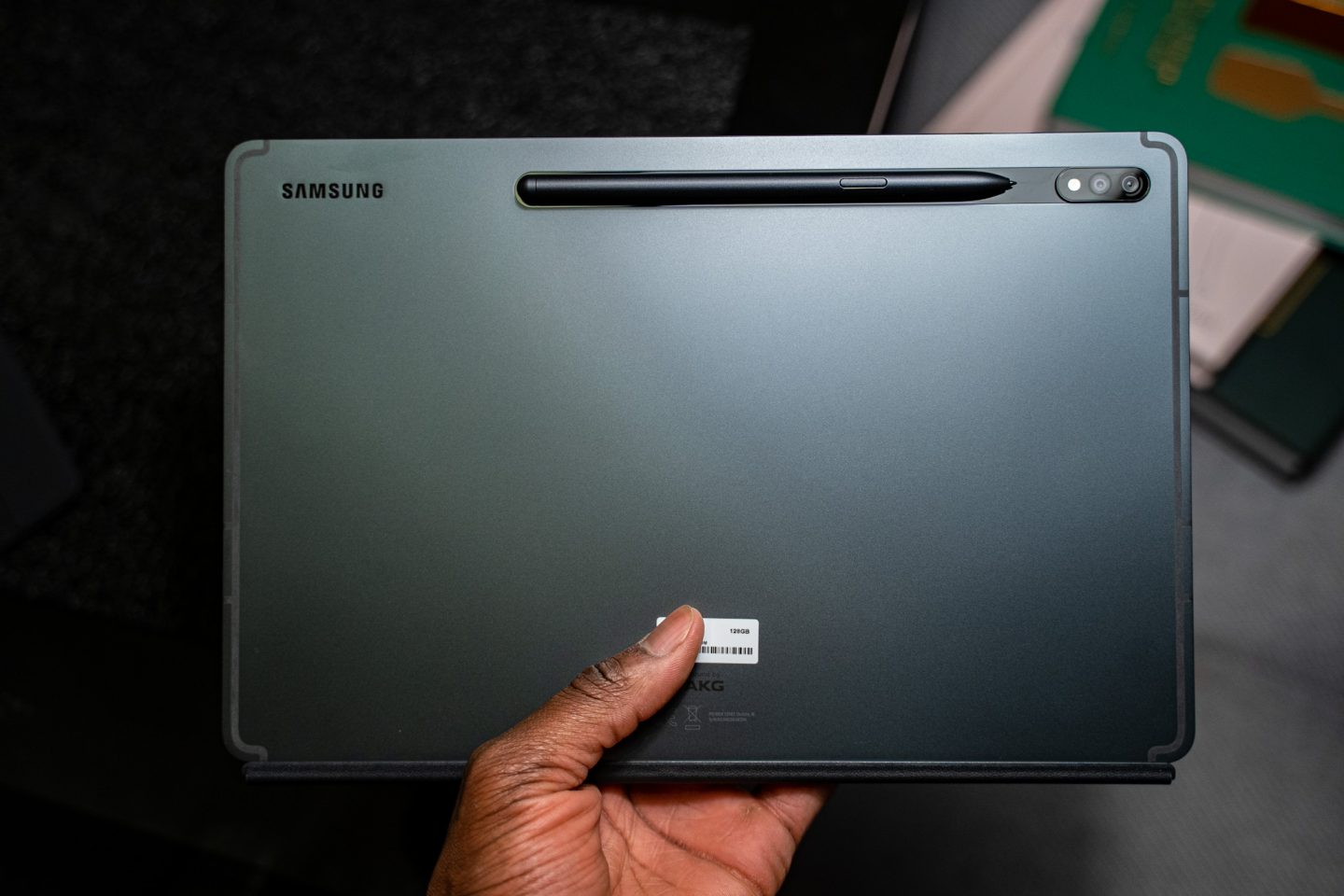 Design
Beauty is in the eye of the beholder and we genuinely believe, everyone is going to find this very good looking tablet. Samsung have taken a very brushed off aluminium design approach, with squared off edges working it's way around the body. A similar design to the Apple Ipad's approach and I'm all here for it.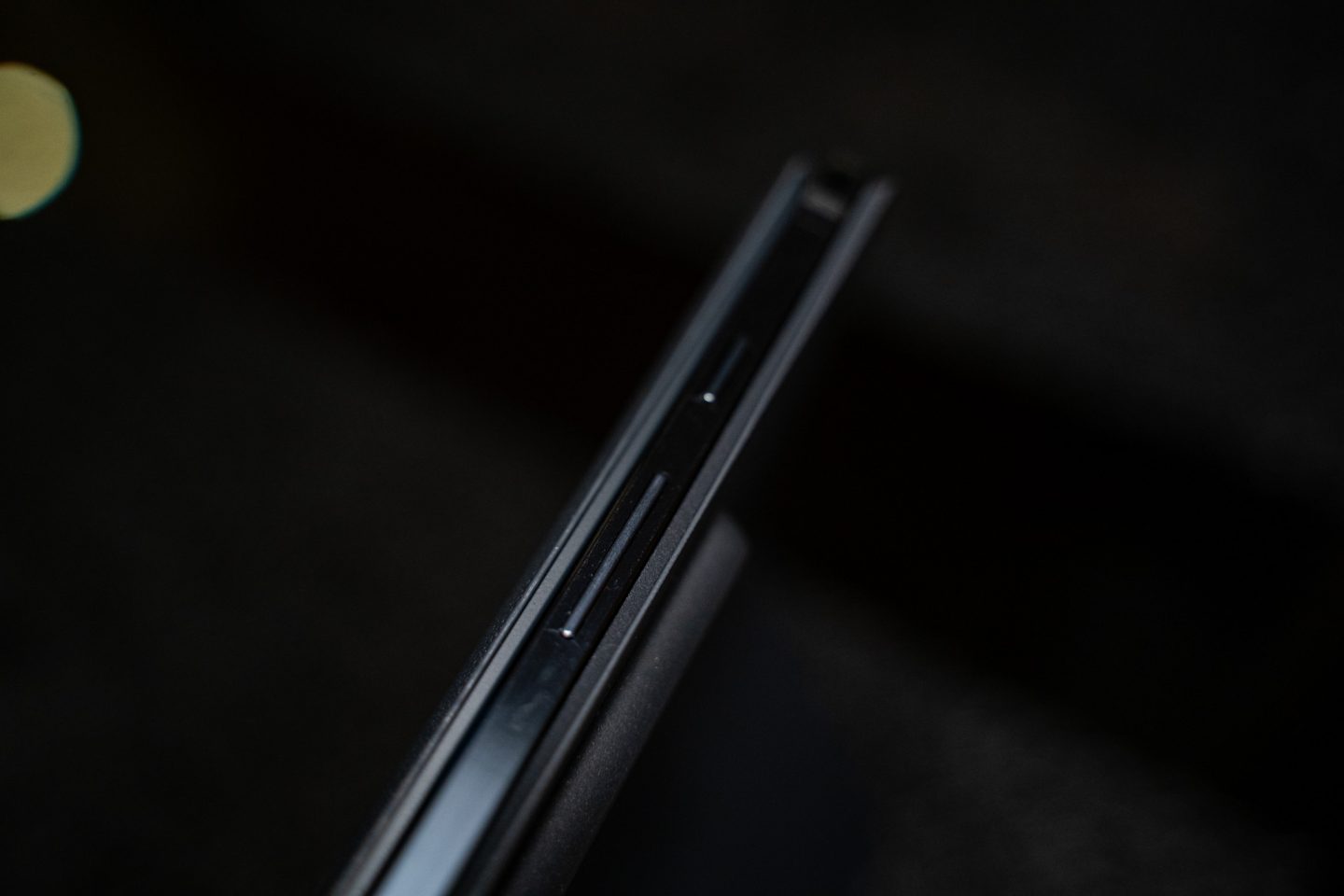 Like most designs like this, it is and will always be, a fingerprint magnet like no other. So be warned and if it bothers you, do a me and carry a brushed cloth with you to wipe them off and keep it looking stunning.
Bezels are nice and thin, thinner than it's competition the Ipad but, not as thing as say Huawei's Matepad Pro. And despite the thinner bezels, we're seeing very little issues with accidental touching of the screen or anything like that. But if none of this is a big deal for you, then you won't mind either way and Samsung have done a good enough job in this area regardless.
Add-ons and Accessories.
Worth mentioning this topic as some will have a view on this and I most certainly do. First things first let's talk the S Pen, Samsung's accessory deity. They've brought it back for the Galaxy Tab S7 plus and what a welcome tool it truly is. It's well connected and comes with some added gesture controls to make it more of an interactive addition to the tablet. Gestures include, camera shutter control, music/volume control and my favourite, screenshotting (which is done by air scribbling down the page). The S pen now attaches to the back of the tablet, which some may find annoying, especially when trying to lay the tablet flat on a surface. But when you have the keyboard cover, it is safely tucked away behind this to keep it nice and safe.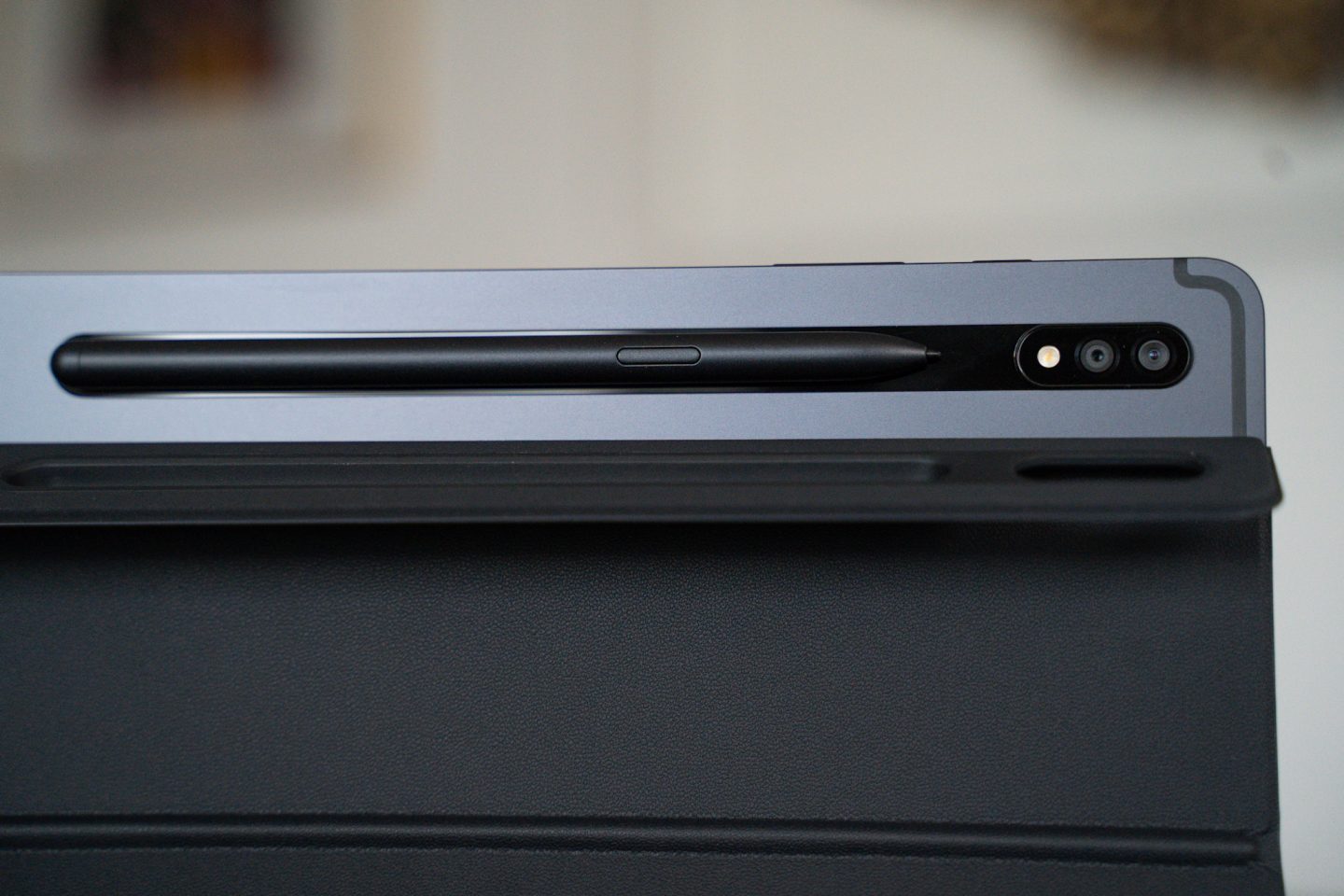 Most buyers of the Galaxy Tab S7 Plus will no doubt also opt in for the keyboard cover too. This is a split accessory of the back cover and a keyboard attachment, priced at a steep £219. The keyboard feels nice and sturdy and is a joy to type from (this review was actually typed using it). The added trackpad makes it more of a intuitive keyboard cover, giving you that added laptop like experience on a tablet. However, there are a couple pain points that score it low marks in the end.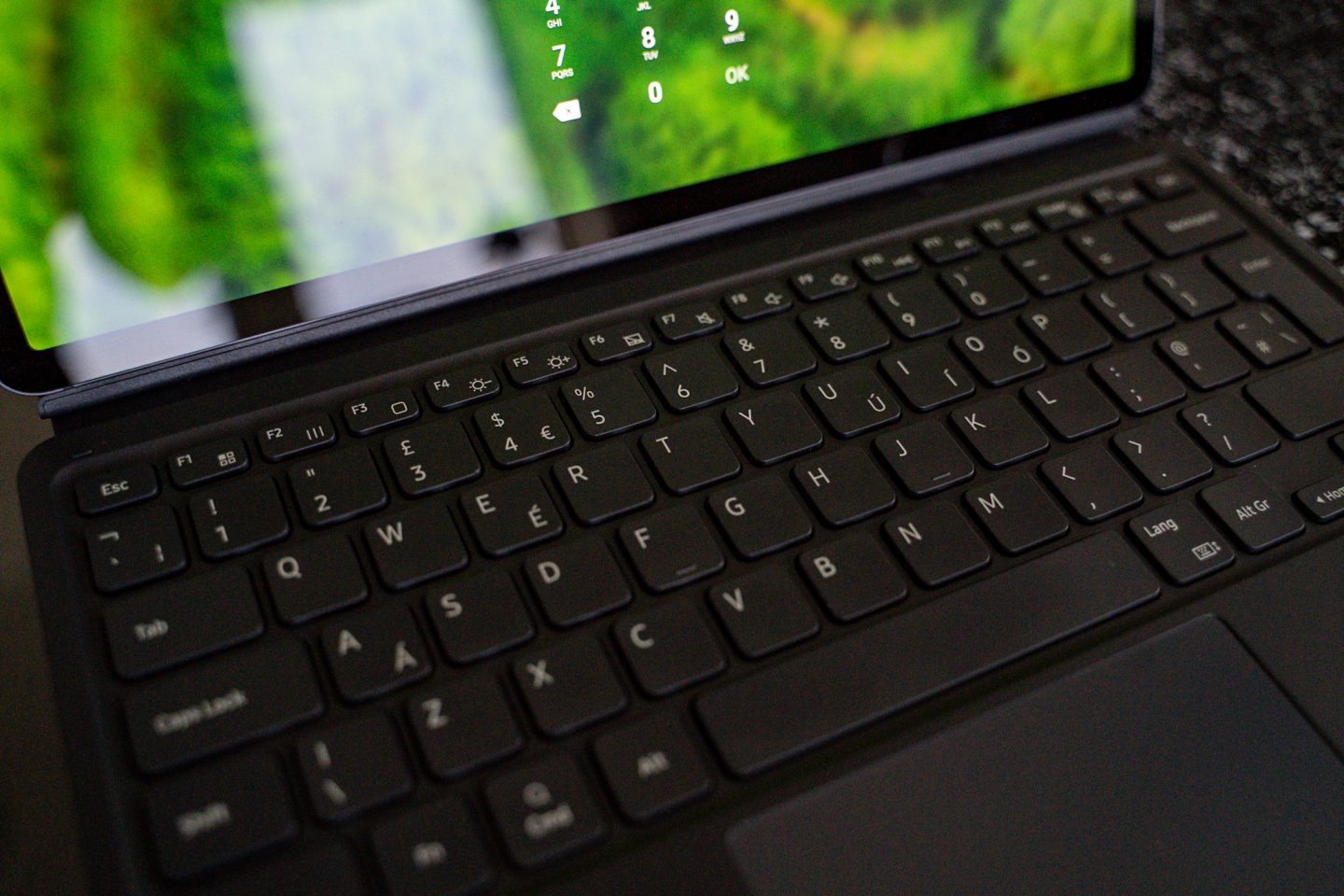 The trackpad whilst good, can often be slow responding, especially when browsing the web. And then the keyboard design itself is a little flimsy on the connecting hinge. There's no rigid edge to make it sturdy and easy to use on your actual lap. Instead, it's best balanced on a hard flat surface only and considering the steep price mark up, this is a bit of a poor design from a ergonomic point of view.
Console controllers is a thing now. I might a little late to the game but i've only know the PC and the console to be the place to game, until recently when re-discovering Xbox.
You can now have Xbox game pass on most Android devices, via Microsoft's cloud service. Imagine a world where you can play Halo on a table slimmer than more Tv's So if you're into it you can grab a Xbox controller and link it to your Tab S7 plus or Tab S7. And today we discovered that PS remote play can be downloaded too, so you can trigger your console remotely and use your device to display and play games on.
So there you have it a rather impressive tablet upgrade from Samsung, with so many solid moves on from last year, with only a few negatives that need to be worked on for the next time.
Would i buy it? Well i did and i've not looked back since as it is a fantastic bit of hardware that's ticking all my workflow, leisure and media needs (whilst weight very little in the process).
There are several different renditions to choose from in memory size and bright colour ways to express yourself with. The Galaxy Tab S7 Plus can be bought directly from the Samsung website