It's hands on time with the Huawei Matepad Pro. Huawei have been one of the brands we enjoy talking about for quite some time, with their innovations continuing to reach new heights.
From smartphones with jaw dropping camera features, to laptops that break the mould when it comes to performance. But today we are focusing on their tablet range. In particular, their last launched flagship model; the Matepad Pro.
It's no secret that the feud in the background between Huawei and the United states has severely put a dent in their ability to really stretch themselves, with Google software championing the operation of their devices. However, Huawei have continued their efforts to endure with the hardware side, which we noticed somewhat in their Matepad Pro.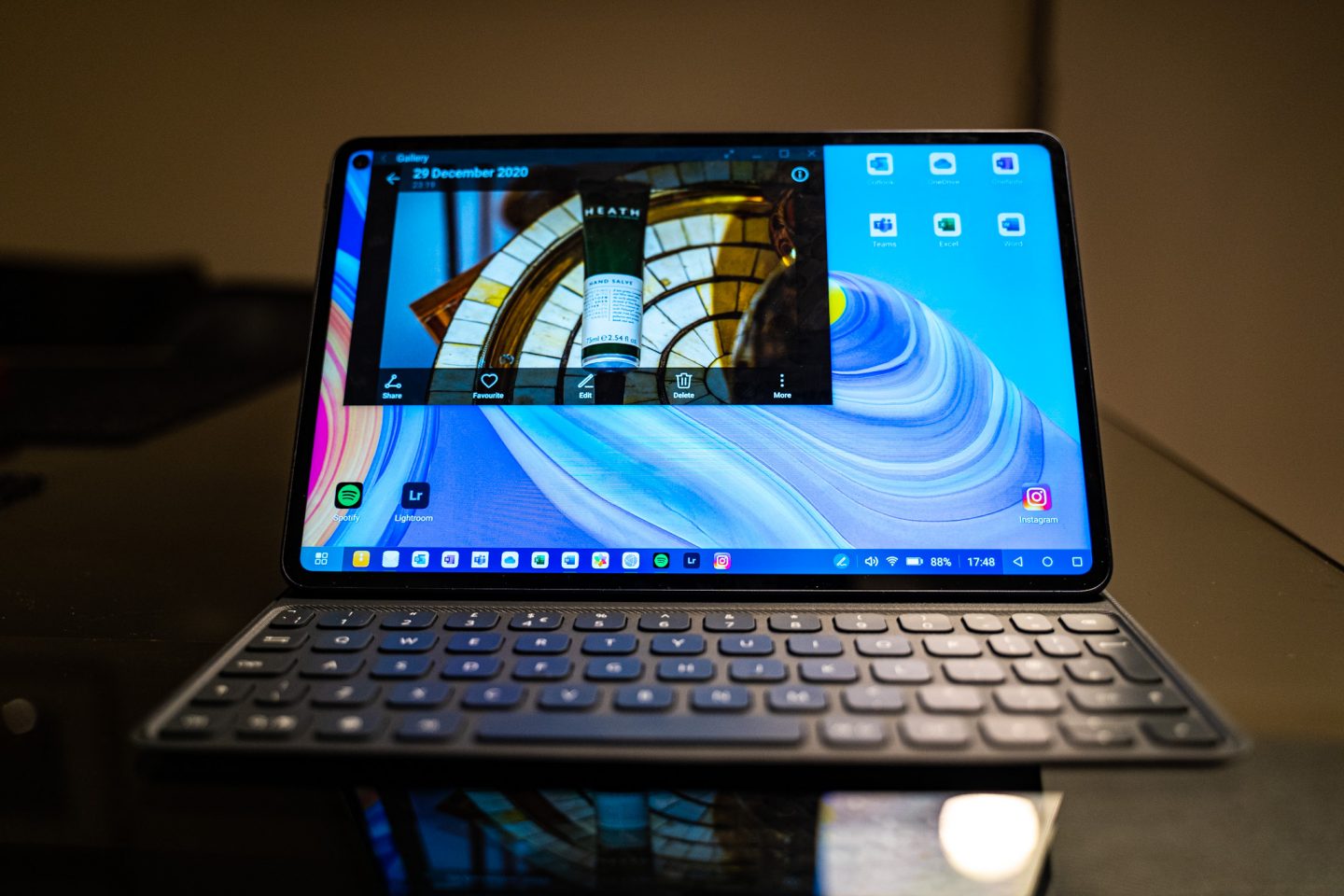 Huawei Matepad Pro Specs:
Display: 10.8" display with 86.5% screen to body ratio (plus 540 nits' brightness)
Operating System: Android 10, EMUI 10 (no Google Play Services)
Processor: Kirin 990 8-core processor
RAM: 6GB
Storage: 128GB/256GB/512GB (expandable by 256GB Huawei NM memory card)
Camera: 13MP f1.8 aperture. Front camera 8MP f2.0 aperture
Battery: 7250mAh battery feat 10v/4A Supercharge (reverse wireless charging enabled)
What we enjoy about it
Irrespective of everything going on software wise, what we have here in the Matepad Pro is a pretty well-built tablet, capable of achieving a large number of tasks with some of the on-board software available. The storage is a reasonable amount to store your images, videos and music and with the help of the Kirin 990 processor, you get impressive performance and speed day to day.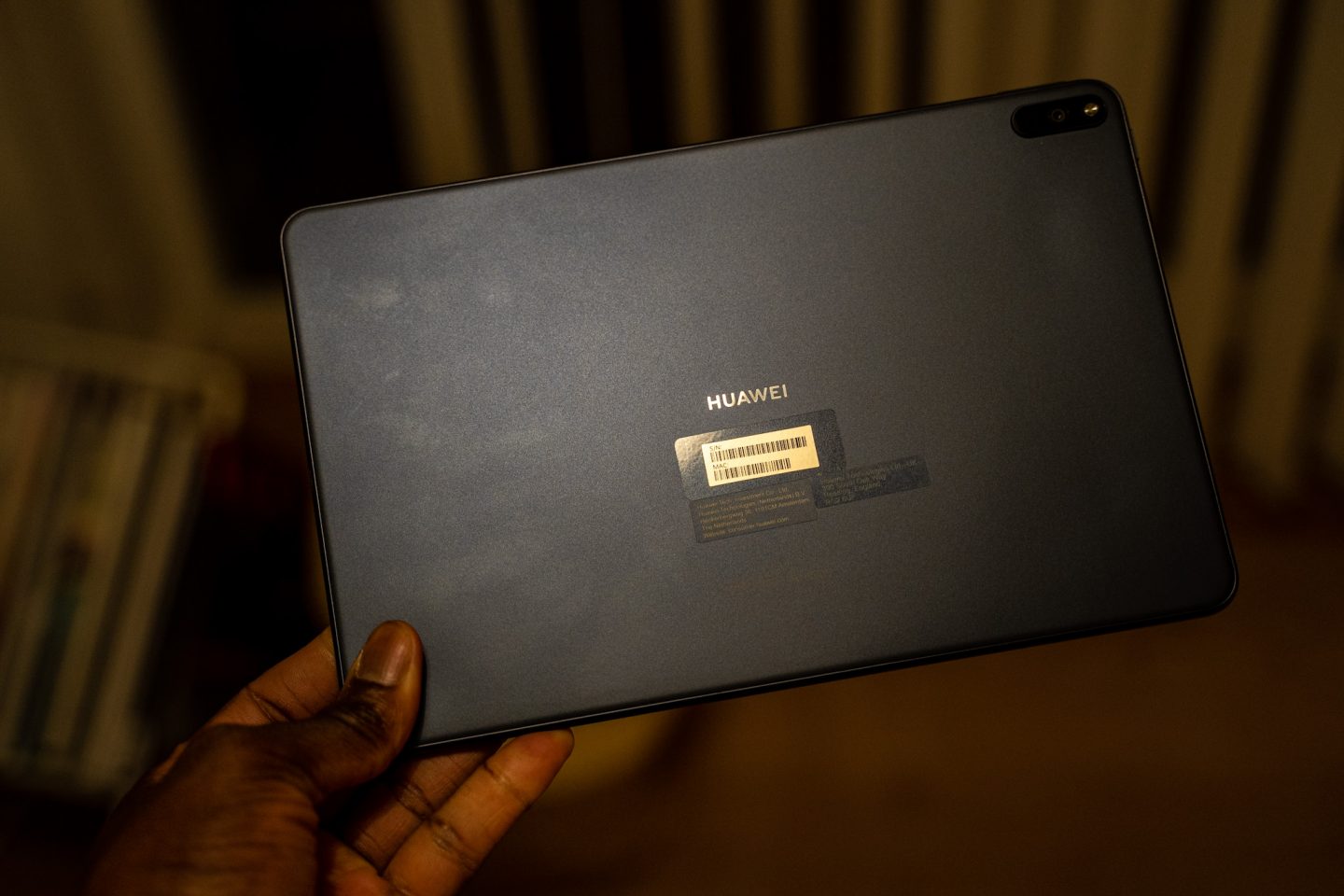 Design: The design is pretty much what you would expect from Huawei, with a metal rear casing, that's sleek and looks premium. The fingerprint smudges it develops however, will drive the OCD in some of us crazy. So just be prepared to wipe it down often after use.
Display: it is nice and bright and the 83% body to screen ratio is lovely, giving you a wide screen front with enough bezel to still handle the Matepad Pro. There is a Huawei M-pencil compatibility, which looks very similar to a fruit resembling competitor…
Battery: we weren't concerned to be honest but it did show once again, how Huawei is still great with battery optimisation. With the 7250 mAh built into the Matepad Pro, you get smooth power that will give you up to 10 hours use in one charge. Huawei suggest 12 hours but with reasonable use I saw 10 hours, which is still okay to get you through the day. Wireless charging is on board, as is reverse wireless charging, so you can charge your phone of earbuds if you need to.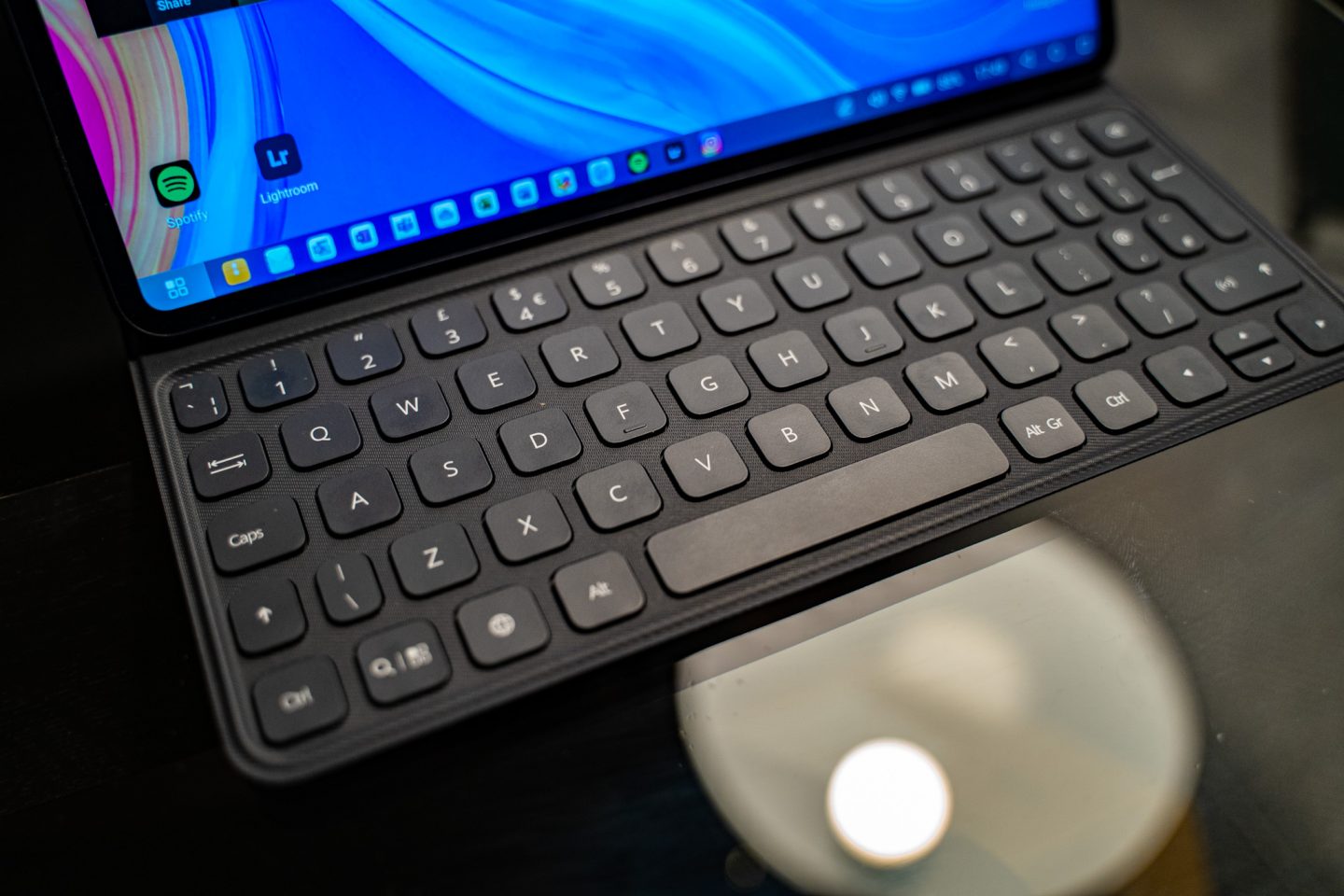 The Matepad Keyboard cover that can be bought with it its magnetically attached rather than the typical plastic clips often seen on cases. This is very firmly attached and allows the Matepad Pro to be sat up right to type from. Keyboard connects via Bluetooth and triggers connection immediately when folded. It is a small keyboard mind you so not full qwerty with F keys, nor does it have a trackpad. But it's responsive and folds closed-down well with the tablet. If you wait for the right time to buy, Huawei often gift the keyboard cover with purchase, saving you £130.
What we're not keen on
Accessories: The M-pencil compatibility is a bit of a bother, especially when it comes to writing with it. It's responsive to the screen however, you do pick up a slight lag in the scribing, but it isn't a huge deal breaker. The touch to the surface of the screen does feel like it's not natural and you might scratch the Matepad Pro. Not a nice feeling when trying to draw fast or write notes, which will impact productivity.
Keyboard Cover: Despite it's cool way of connecting, the way in which the Matepad Pro sits within it will do your neck in (literally). There's no way to really control the angle it sits in, meaning you will often find it uncomfortable to sit in front of for long durations.
Desktop Mode: the Matepad Pro comes with it's own desktop mode and bless them for they tried. It seems no brand has managed to crack a good desktop mode on a tablet (Samsung's Dex mode is definitely still the winner out of them all), but unfortunately the Huawei version I found often crashed or didn't like to boot up.
Software: I've tried to ignore it many times but need to address the big elephant in the room. The big elephant being the lack of Google Play services. You have the Petal search and Huawei app gallery but unfortunately, both are still far, far away to being a great alternative. So small things like Microsoft office and Spotify, I found a real struggle to find APK downloads for that didn't crash upon opening. And then when you think about overall productivity you soon realise that a lot of reasons you wanted a tablet, are redundant without the abundance of good apps to run on it.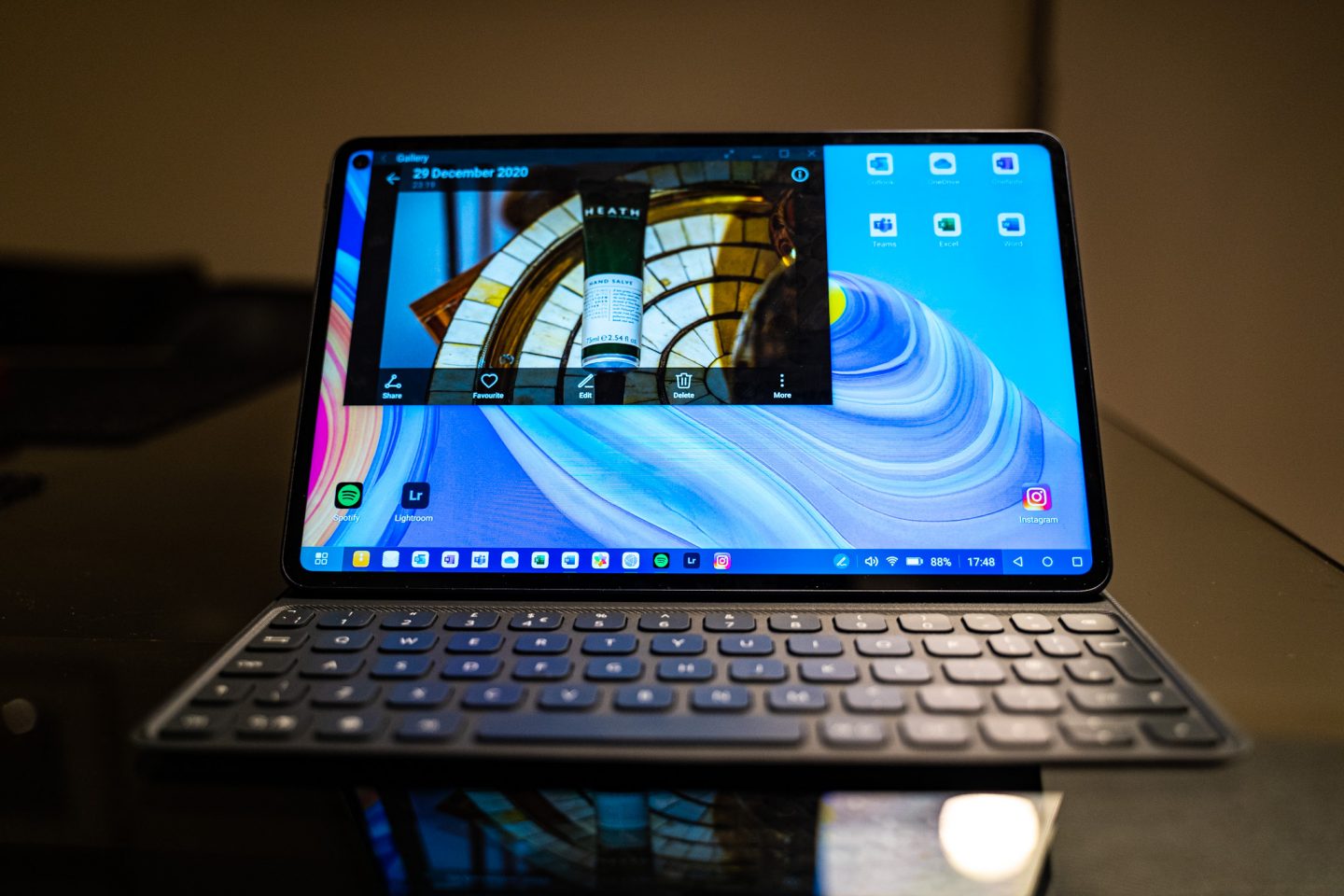 So overall a good concept with great battery, powerful performance from the Kirin 990 and a solid display built in. But (and this is a big BUT) I feel with tablets they're only half as good as good as the software that's built into it. And the no mainstream apps situation like their phones, is a bit of a problem to anyone that relies on a lot of apps.
But if you're hoping to use the Matepad Pro to do more drawing, browsing, note taking and media play, this tablet will not disappoint. I tried it as a more portable workflow tool and it caused more trouble than good sadly, especially when it came to desktop mode and the sheer times it crashed in general.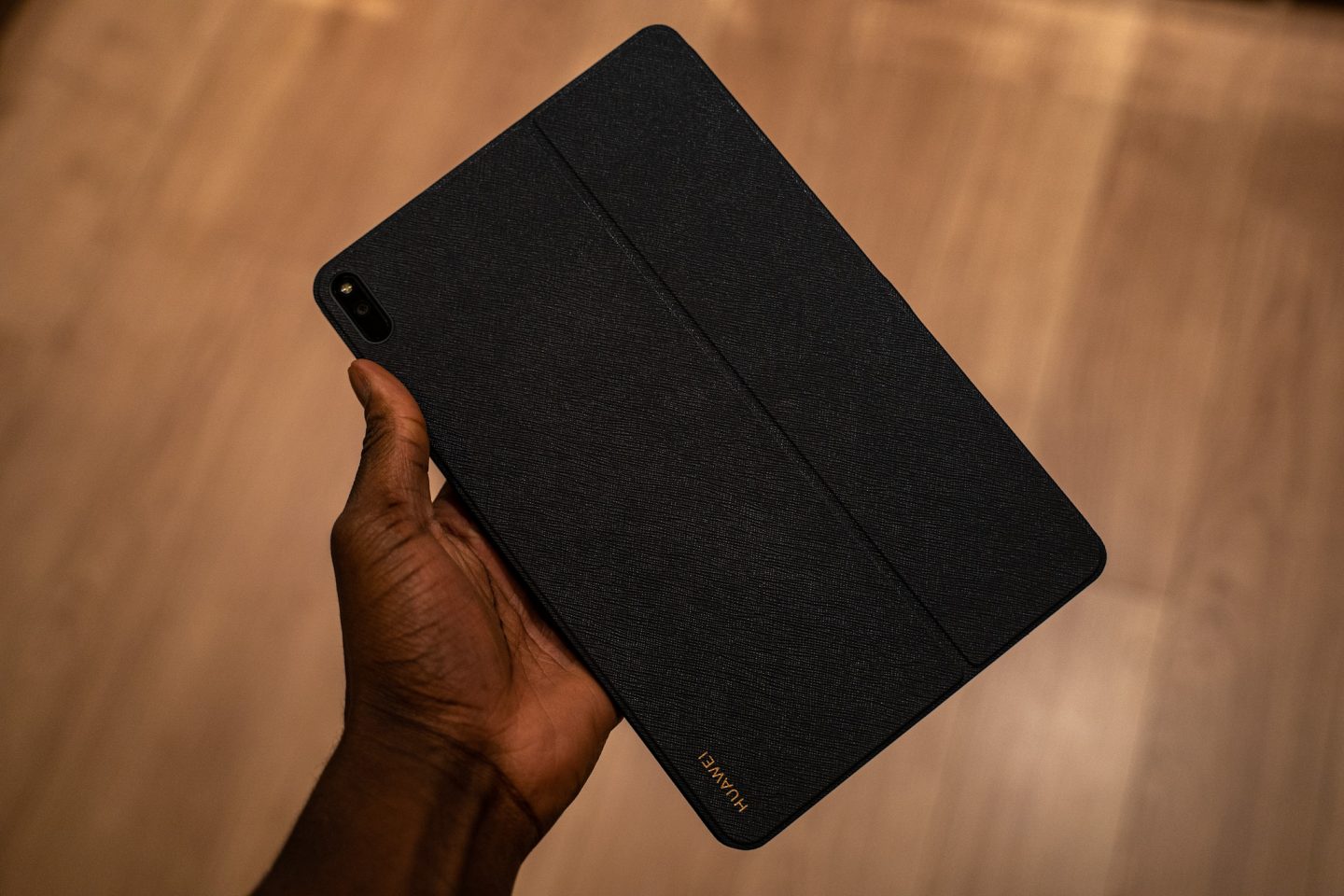 The Huawei Matepad Pro is priced at a fair £450 for the WI-Fi version and £499 for the LTE model, directly with Huawei online. Keep your eyes peeled for bundle deals, which may chuck the keyboard cover in free of charge (saving you £130!)